Aloo tamatar ki sabji is a popular North Indian homestyle curry. Potatoes are cooked in tomato and ginger based sauce and are flavored with mild spices.
What I love about this Aloo Tamatar ki Sabji
Aloo tamatar ki sabji is my favorite go-to curry because it is simple, quick and delicious recipe to make at home. There is no use of onions and garlic in this preparation. It comes together in less than 20 minutes and a perfect side dish for a weekday or a lazy weekend meal. I enjoy the tanginess from the tomatoes and spice from fresh ginger in this preparation.
Combination of **Aloo tamatar ki sabji**, poori with some raita, lemon pickle and salad is one of our favorite weekend brunch.
Which variety of potatoes to use
Yukon gold or yellow potatoes works the best because they have high starch content and medium moisture. The starch from potatoes naturally helps in thickening the gravy. Boil the potatoes using instant pot/pressure cooker for 20 minutes and natural release pressure method. Once cool, peel the potato skin and dice the potatoes.
NOTE: Cooking times vary and depend on the source and variety of the potatoes, hardness of the cooking water and many other factors.
How to make Aloo Tamatar ki sabji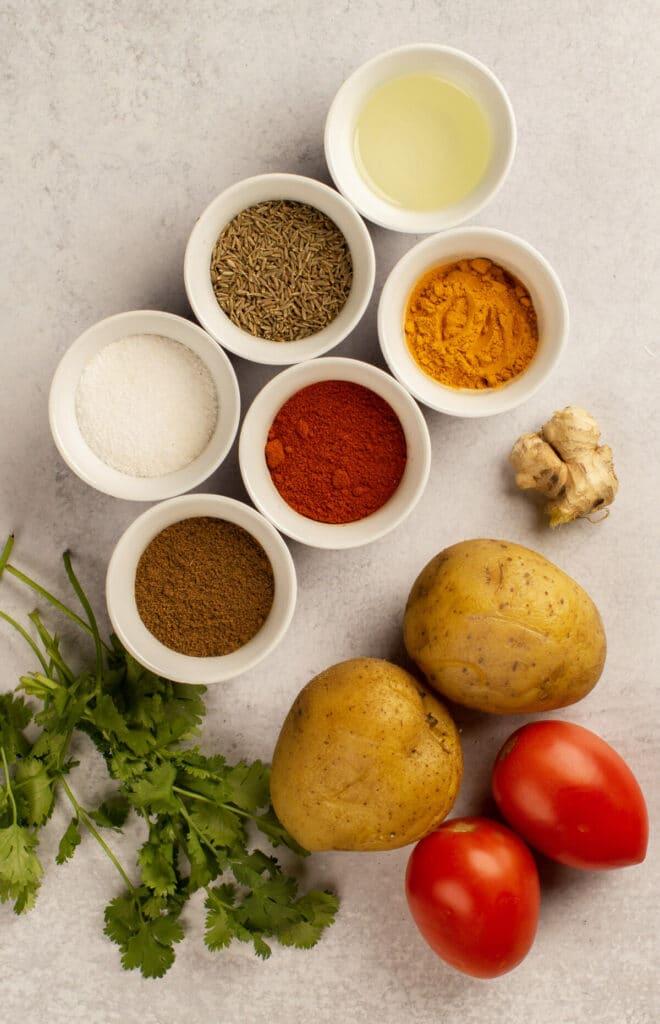 In a wok on medium, heat the oil. Add the cumin seeds, once they splutter and start to change color, immediately add the chopped tomatoes and the grated ginger. Stir to combine.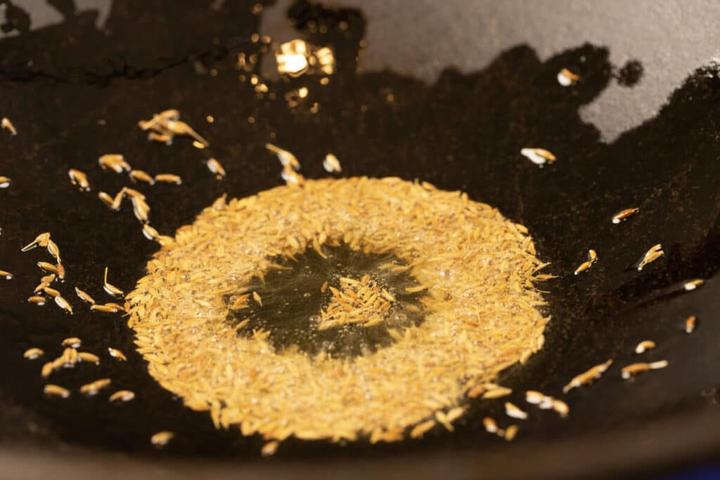 TIP: Adding ginger with tomatoes prevents it from sticking to the pan.
Tomato Masala.
Next add the turmeric powder, red chili powder and salt. Combine everything well together and let the tomatoes cook thoroughly with stirring occasionally. The tomatoes should not fully disintegrate and should have some body. This will take about 5 minutes.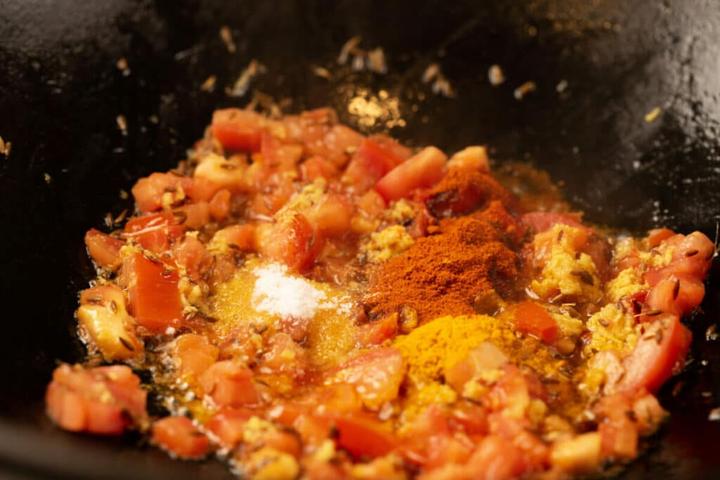 Add the potatoes
Add the diced boiled potatoes and stir until potatoes and tomato masala are well combined. With the help of the ladle break down few pieces of potatoes. Keep stirring at regular intervals and scraping the bottom of the wok. Let this cook for about 5 minutes.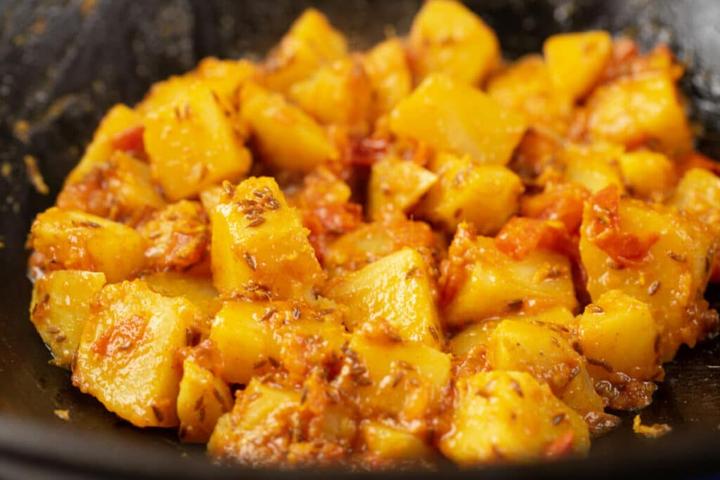 Finishing the aloo tamatar ki sabji
Lastly, add a cup of warm water and stir to combine. Taste and adjust for salt. Bring it to a boil and cook uncovered on medium heat until the gravy starts to thicken (while still soupy) about 5 minutes.
NOTE: The consistency of the dish can be easily adjusted with the amount of water added. I like my sabji to be of thicker consistency, more water can be added to make this dish with thinner consistency.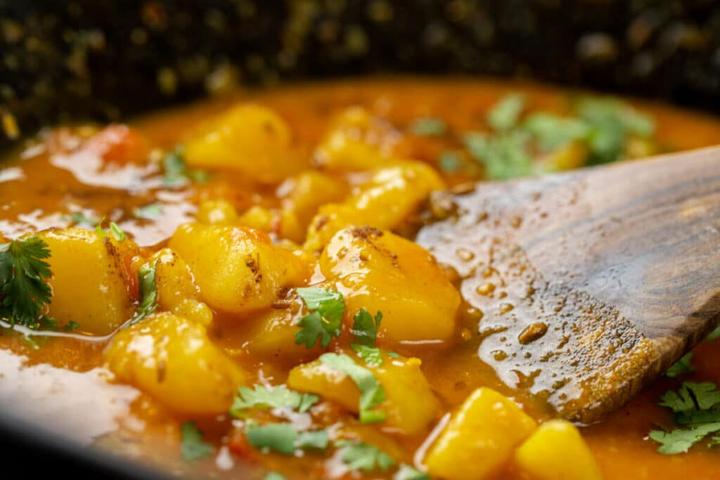 TIP: The curry will thicken as it cools down. While reheating you can add 1/4 cup of warm water, adjust for salt and simmer for 2-3 minutes.
Transfer to a serving bowl, sprinkle garam masala and garnish with chopped cilantro/coriander leaves. Serve hot with poori (deep fried Indian bread made with whole wheat), paratha or jeera rice.