This Banana bread is made with ripe mashed bananas. Very easy to make, involves few simple steps and is delicious. The texture is soft and moist. Nothing tastes better than a homemade banana bread.
What I love about this banana bread
Banana bread is my absolute favorite. It is mildly sweet and turns out moist and soft every time. We enjoy a slice of this delicious banana bread with a cup of coffee in the morning. Perfect for breakfast, snack or a dessert and do not forget to pack some along on your next road trip. It comes together very quickly and is easy to make.
I love baking this banana bread for my friends and neighbors because they all like that this bread is not very sweet and full of flavor. Many of my family members and friends have asked me for the recipe and I feel it is time to share this wonderful recipe.
I hope you all will enjoy making this banana bread recipe for your friends and family, and don't forget to share it with your neighbors. Everyone deserves a slice of this bread.
What kind of ingredients to use
Bananas must be really ripe, soft to squeeze and easy to peel. There is nothing called an over ripe banana for making a banana bread. Bananas are the sweetest when they are ripe, which is perfect for this recipe. Those bananas on your countertop, you forgot about and are now almost turning black, are the best ones to use. I would say if you are ready to throw a banana it is time to make banana bread.
Chocolate chips: I use dark chocolate chips with at least 65% cocoa. You can replace these with semi sweet chocolate chips, leave it out completely or combine the two in equal amount.
Walnuts: Use the non-toasted variety because they will get toasted while baking. Chop the walnuts into small pieces and distribute them evenly on the batter. You can replace walnuts with pecans. This recipe can also be made without the walnuts.
How to make banana bread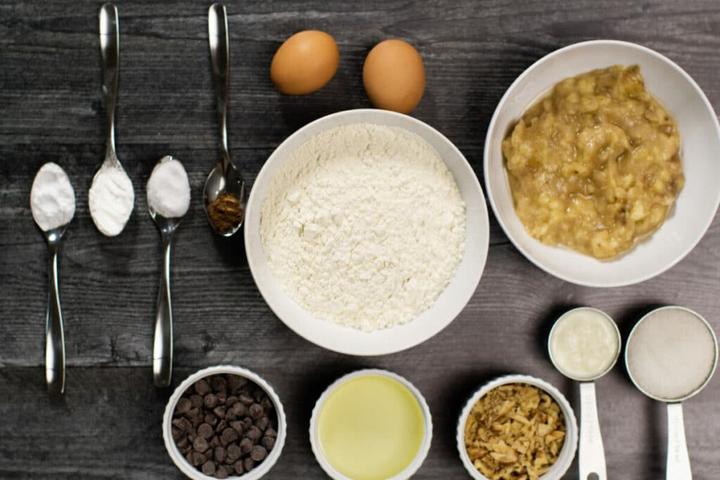 Adjust oven rack to middle position and preheat the oven at 350°F (180°C) for at least 15 minutes before baking. Lightly grease the 9 X 5 inch loaf pan and line with parchment paper or waxed paper.
Combine dry ingredients
In a small bowl combine flour, baking powder, baking soda, salt, allspice, a pinch of ground cinnamon and set aside.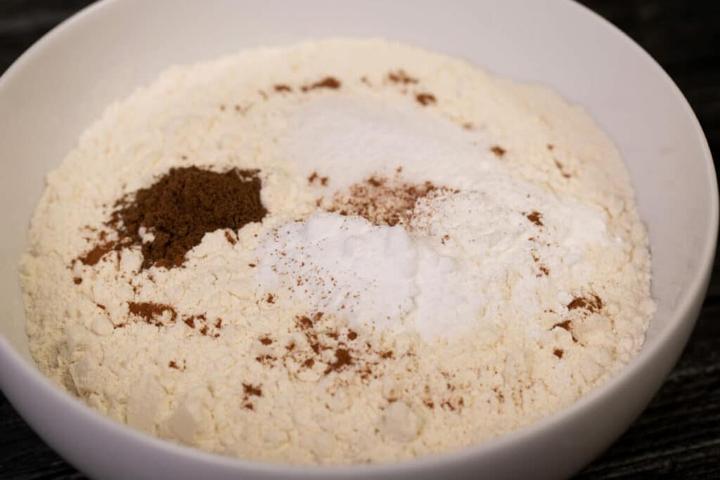 Mix wet ingredients
In a large mixing bowl whisk together the eggs, sugar, oil and yogurt until foamy and smoothly blended.
Mash the bananas
For a perfect overripe banana fork does the job very easily. If there is resistance that means the bananas are not ripe enough for the banana bread. You can also use a potato masher.
Lastly, add the mashed bananas to the wet ingredients mixture and whisk to combine well.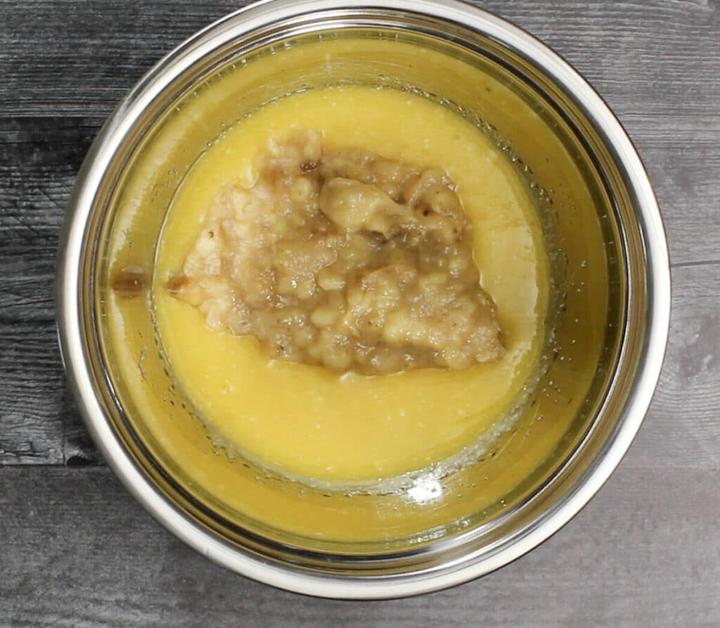 Add the flour mixture
This is the most important step. Add the flour in 3 parts, using a wire whisk incorporate the flour into the wet mixture stopping when barely combined. Add the remaining flour in parts and fold in until just mixed. Do not worry about everything evenly incorporated. It is very important not to overmix this batter. Overmixing of the batter will result in dense bread.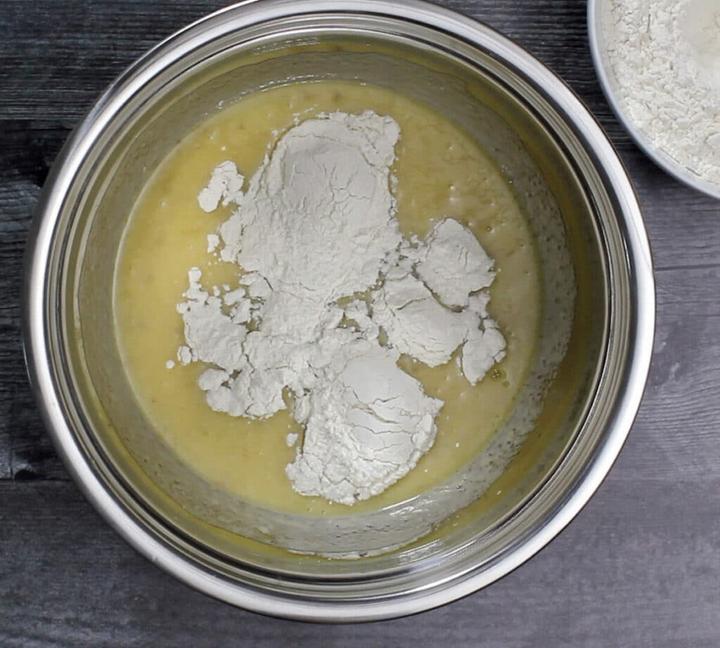 Fold the chocolate chips
Lastly add the chocolate chips. Using a spatula, scrape the sides and fold the chocolate chips into the prepared batter until just combined. Be careful not to again overmix the batter.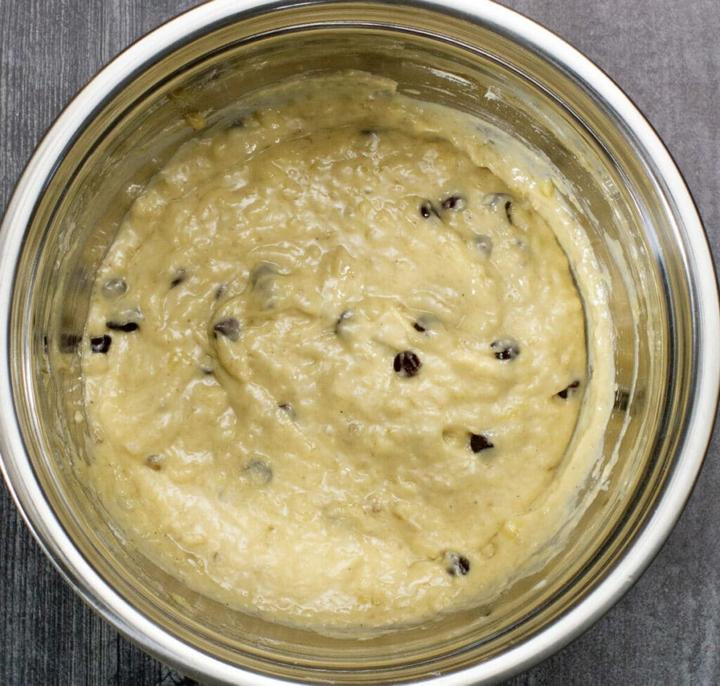 TIP: You can also add walnuts to the batter at this stage.
Transfer the batter
Pour and scrape the batter to the prepared loaf pan. Tap the pan on the counter, this will even out the batter and remove any air bubbles.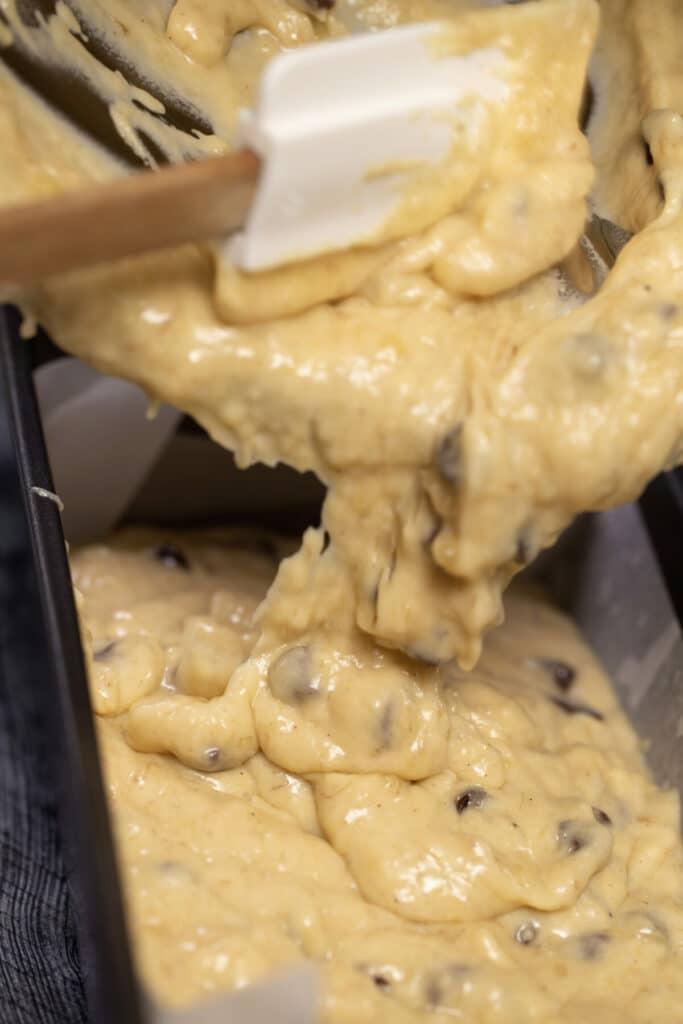 Sprinkle the chopped walnuts on the top. You can completely skip the walnuts or replace them with chocolate chips or add both.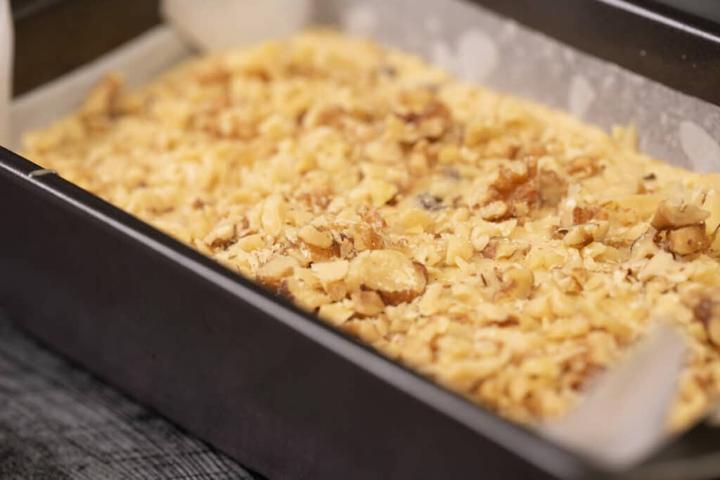 How long to bake this banana bread
Bake at 350°F (180°C) for 50 mins or until the skewer inserted in the center comes out clean. Remove from the oven and set aside for 10 minutes. Remove the bread from the pan, peel off the parchment paper and let it cool completely on a wire rack before slicing.
NOTE: Avoid opening the oven door for first 30 minutes. Every time you open the door, you are letting some heat out, which will result in uneven baking and the air can cause the batter to sink in the middle.
If the top is getting brown quicker and the bread is still undercooked in center, cover the top with aluminum foil.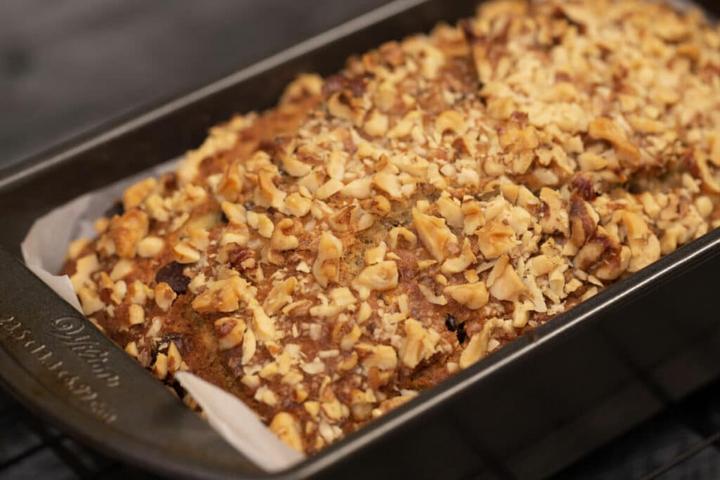 TIP: Cover the bread with the foil once it is completely cool. This will help in keeping the bread fresh and in retaining the moisture of the bread.
Enjoy a slice of banana bread with a cup of coffee or scoop of an ice-cream.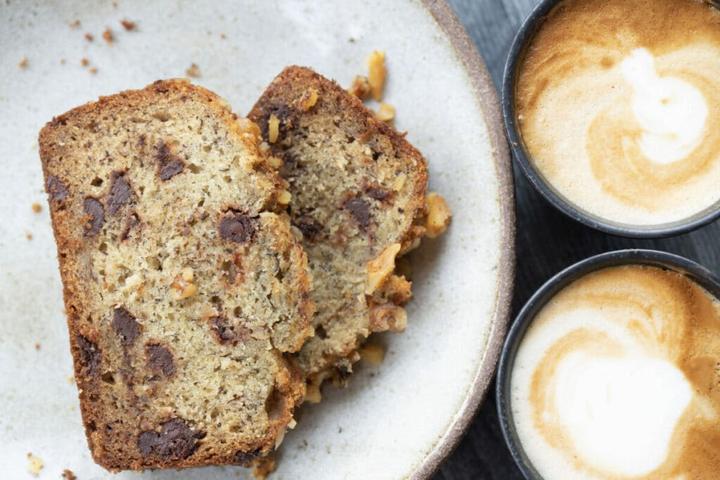 How to store banana bread.
Once cooled, the banana bread can be stored tightly packed in aluminum foil or in an airtight container right on the kitchen counter at room temperature. This bread will stay good for up-to 4 days in a cool place or refrigerate to prolong it's life. If you live in a hot place, it is best to refrigerate.