Chickpea and sprouted mung bean salad is so simple yet loaded with the health benefits of the chickpeas and mung bean sprouts along with the freshness of cucumbers and tomatoes. This salad serves as a great meal or as a side dish and is easy and quick to put together. You can make this salad ahead of time and refrigerate until you are ready to serve.
What I love about this salad
I love how quickly this meal comes together and of course the endless possibilities of adding or replacing the ingredients in this salad. I add avocados, paneer (cottage cheese) and often leave out the onions and replace it with celery. This salad makes a quick weeknight dinner or a workday lunch to pack along.
I often make this chickpea and sprouted mung bean salad along with the Puff Pastry Samosas for the parties at our home.
If you love chickpeas like the way I do, try out this other recipe Chana (chickpea) Paneer Madra.
How to make chickpea and sprouted mung beans salad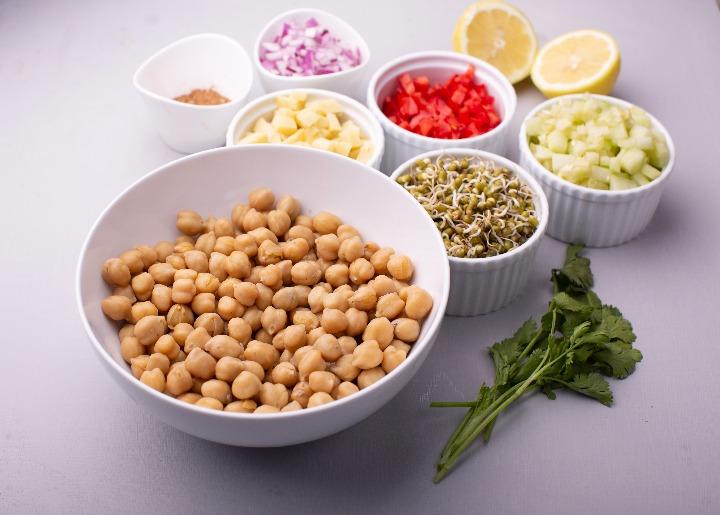 What kind of chickpeas to use
You can either cook your own chickpeas or use a store bought can. For cooking the chickpeas, soak 1 cup of chickpeas in 3 cups of water for 8 hours and then pressure cook for 20 minutes using instant pot/pressure cooker. Drain all the liquid and let them cool. If using the store bought can of chickpeas, drain the liquid, give them the quick rinse under cold water and you are ready to go.
Mix the ingredients
In a large mixing bowl combine chickpeas, potatoes, cucumber, red onions, mung bean sprouts and tomatoes. Toss everything well to combine.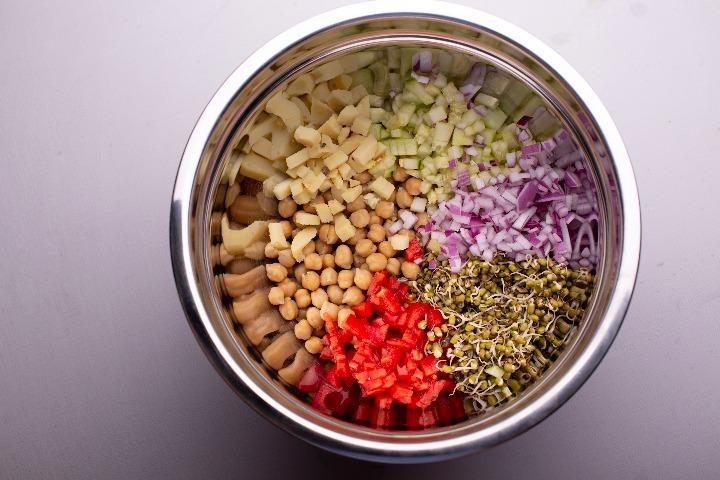 TIP: I recommend leaving out the onions if making this ahead of time then adding them right before serving.
Season with spices
Now season with chaat masala, roasted cumin and red chili powder, salt to taste and lemon juice. Mix everything well together. Taste and adjust the spices before serving.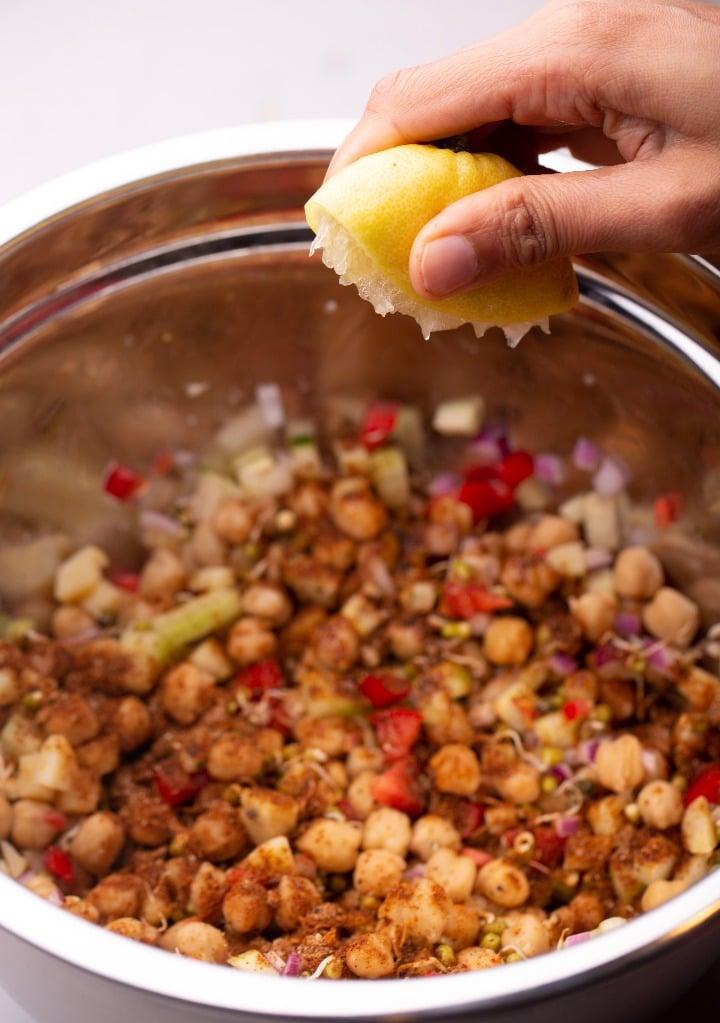 Chickpea and sprouted mung bean salad is ready! Garnish with cilantro/coriander leaves and serve.
You can also store this in an airtight container or a mason jar for later use in the refrigerator.