The dog birthday cake recipe is very simple and easy to make, involves a few simple steps. Your fur baby will love it. This cake is made with all-natural ingredients that are safe for most of the dogs but it is still important to feed them in small quantities. I have been making this cake for the last 3 years and both my dogs love it.
I hope you all will enjoy making this Birthday Cake recipe for your fur babies and don't forget to share this recipe with your friends and family. Every fur baby deserves a slice of this delicious cake.
How to make this delicious dog birthday cake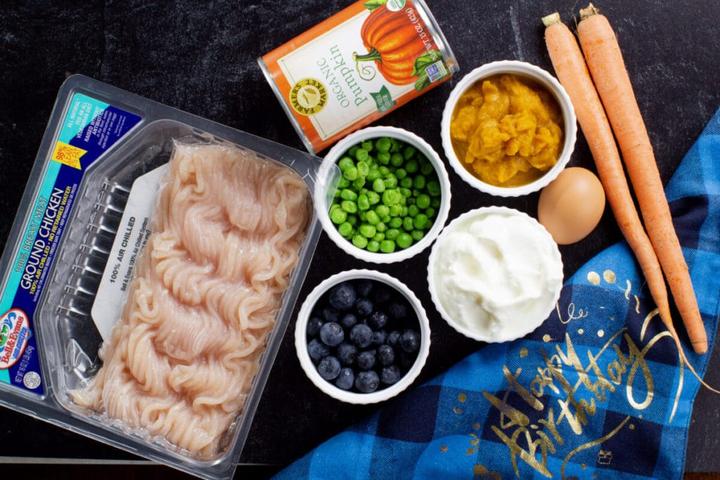 what ingredients to use
I always use the same quality of ingredients as I would to cook our meals.
GROUND CHICKEN: It is important to use lean boneless meat, for that reason I like to use ground chicken breast. I would suggest not to use ground thigh meat because it contains more fat which your dog does not need.
PUMPKIN PUREE: Make sure to use the plain pumpkin puree without any added sugar and spices. Do not use the pumpkin pie puree. In case this is not available where you live you can make your own pumpkin puree at home or leave it out.
PEAS: I use thawed frozen peas. In a bowl of hot water, add the peas and set it aside for at least 5 minutes. Drain the water and keep the peas aside.
GRATED CARROTS: Wash the carrots under cold water. Cut the bottom and the top of the carrots. Use the vegetable peeler to remove the skin. Using a box grater grate the carrots and set aside.
BLUEBERRIES: I used Blueberries this time which can be replaced with strawberry, raspberry, banana, or other fruit your dog loves or left out completely.
Important Note: It is very important to feed your dog all these in smaller quantities. Each dog reacts differently to different kinds of food. It is always a good idea to check with your vet.
Hung yogurt for frosting the dog birthday cake
I start with the process of making the hung yogurt first because it takes time, so by the time the cake is ready for frosting, the yogurt is also ready.
Hung yogurt is made by draining the excess moisture from the yogurt which results in creamy thick yogurt. Place a strainer on a deep bowl (this will ensure that the water that is collected does not come in contact with the yogurt) and add the yogurt. Cover and set it aside for at least 1 hour. The water (whey) is collected in the bowl and you will be left with creamy thick yogurt (which we are using as frosting).
My dogs love yogurt so I use this as frosting for the cake. You can replace hung yogurt with plain unsweetened Greek yogurt and skip the process to make hung yogurt.
Important Note: The yogurt should be plain and free from any natural or artificial sweeteners. Make sure the yogurt is fresh and not sour. If your dog is lactose intolerant avoid using yogurt instead you can use pumpkin puree or peanut butter or a combination of two as an alternative frosting.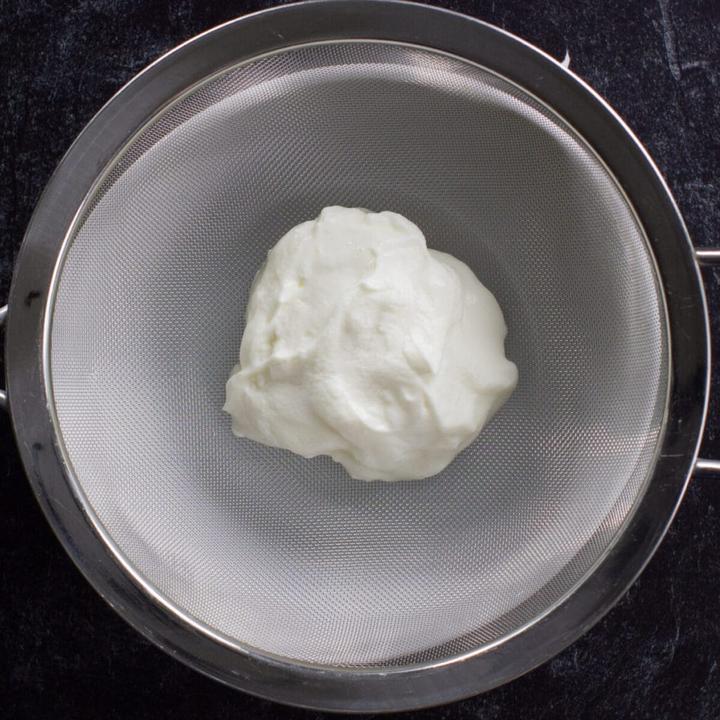 TIP: The collected water (whey) is rich in protein and can be used to make dough or too cook vegetables.
Preheat the oven
Adjust oven rack to middle position and preheat the oven at 400°F (205°C) for at least 15 minutes before baking.
Combine the ingredients for the cake
In a large mixing bowl, combine the ground chicken, grated carrots, thawed peas, pumpkin puree, and an egg. Mix it all well together.
Note: Wash your hands and surfaces after handling the raw meat to avoid cross-contamination.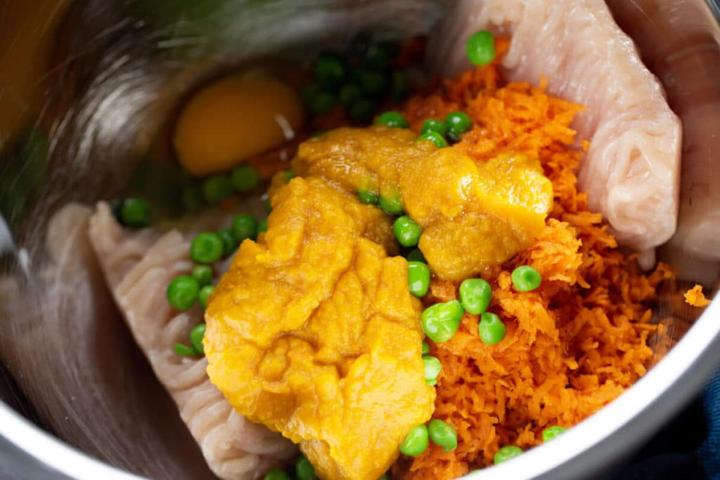 Transfer the batter
Pour and scrape the batter to the prepared 3-inch springform pans. Tap the pans on the counter, this will even out the batter and remove any air bubbles. Place the cake pans on a lined baking sheet. The baking sheet will catch all the drippings from the chicken while it's getting cooked and the clean up will be easy.
NOTE: I use two 3 inch cake pans because I freeze one for later use. You can make this recipe in one 6" cake pan or even half the recipe to make one small cake.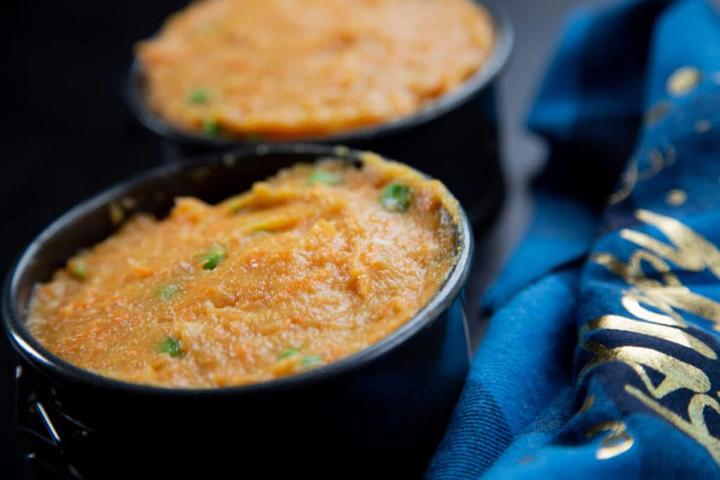 Bake
Bake in a preheated oven at 400°F (205°C) for 50 mins or until the skewer inserted in the center comes out clean. Remove from the oven and set aside and let it cool for 15 minutes or until cool enough to handle.
NOTE: Avoid opening the oven door for the first 30 minutes. Every time you open the door, you are letting some heat out, which will result in uneven baking.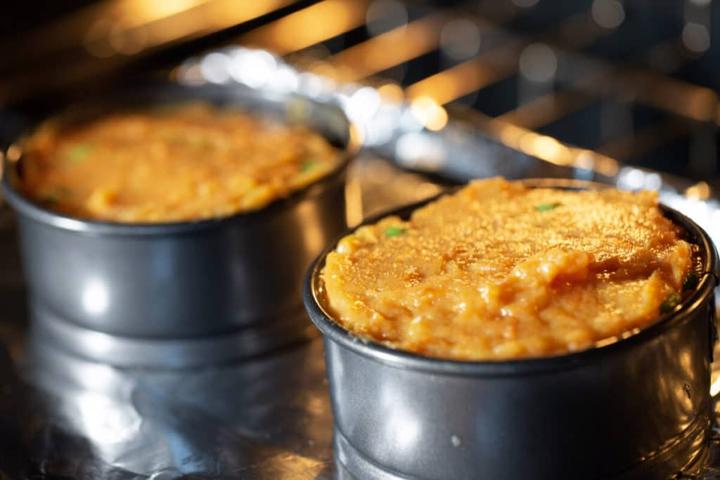 Let it cool Completely
Remove from the mold and let them cool completely on a cooling rack.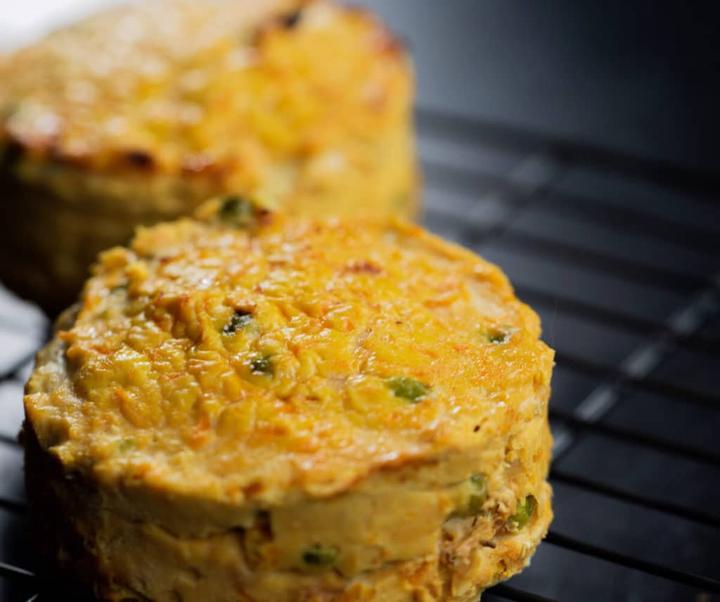 Frost the Dog Birthday cake
Transfer the hung yogurt into a bowl. Once the cake is completely cool, spread the yogurt evenly using a spatula on the top and the sides of the cake. Decorate with blueberries and yes don't forget the candle.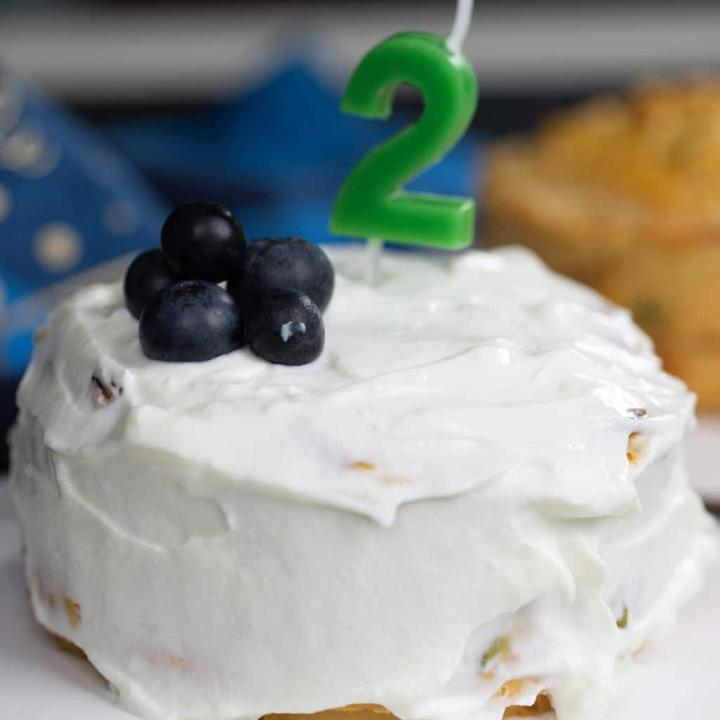 Feeding your dog the birthday cake
I do not recommend dogs of any size to consume the entire cake in one sitting. Slice the cake in a smaller portion and feed this cake to your dog as a treat. Each dog reacts differently to different kinds of food. It is always a good idea to check with your vet. Your dog will love this cake and ask for more. Please avoid looking into those eyes!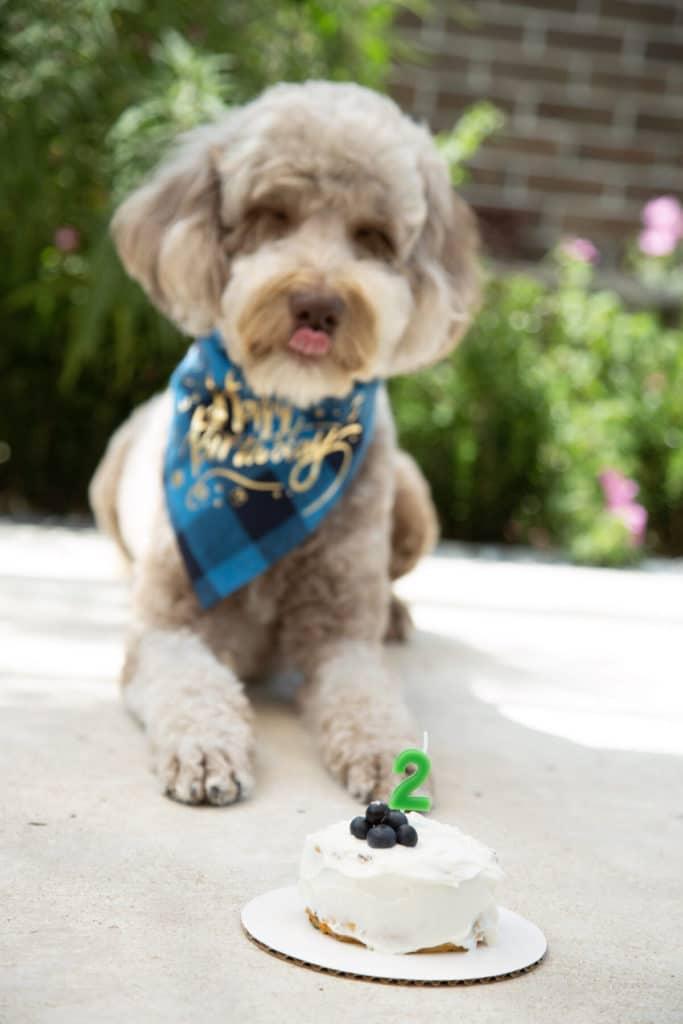 How to store the remaining cake.
Keep the cake in a sealed airtight container the fridge to keep it fresh. This will last 3-4 days. You can also slice the cake in small pieces and freeze it. You can feed them as frozen treats or thaw in the refrigerator until soft before feeding. I add a small piece of cake with their meals.