Kaddu ka khatta is a sweet an sour pumpkin curry made with tamarind, jaggery and variety of spices in Himachali cuisine. It is served as a side dish with hot steamed rice in Mandayali Dham, a community midday (six to seven course) meal. Kaddu ka khatta is also enjoyed with Bhaturu (fermented wheat roti) and Kachori (fermented wheat roti stuffed with urad dal) in Mandi, Himachal Pradesh, India. Traditionally it is cooked in iron kadai (wok) using mustard oil. This preparation does not use onions, ginger, garlic and tomatoes.
Kaddu ka khatta is my childhood favorite, as a kid I would wait patiently for this dish to be served towards the end of the Dham. We cook this often for our weekday dinner along with some dal tadka and steamed white rice. Our friends also enjoy the unique flavors of this dish. This recipe comes from our family kitchen and is quick and simple. I hope you all will enjoy making this for your family and share it with your friends.
HOW TO MAKE KADDU KA KHATTA (SWEET AND SOUR PUMPKIN)
Wash and peel the pumpkin. Scoop out the fibers and seeds. Dice into cubes about 1 inch and keep aside. Next roughly crush the fenugreek seeds (methi seeds) and coriander seeds using mortar and pestle.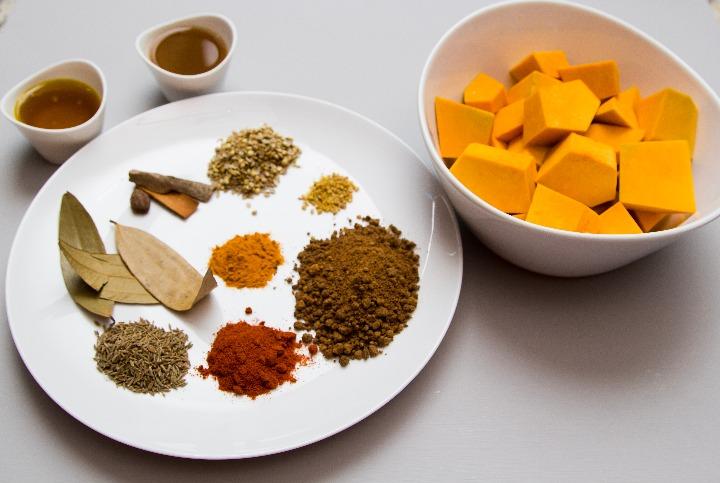 BLOOM WHOLE SPICES
In a wok (Kadai) on high, heat the mustard oil and then reduce the heat to medium. Add bay leaves, cinnamon stick, whole dry red chili and black cardamom to the hot oil, sauté till bay leaves changes color and the spices become fragrant, this will happen quickly. We always add the whole spices first as they release their aroma in hot oil.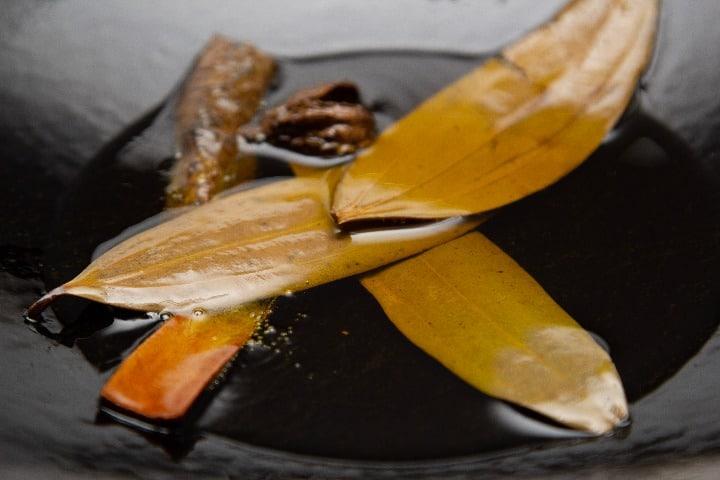 TIP : Mustard oil has a sharp taste, to mellow and mild the flavors it is heated till the smoking point. You can substitute mustard oil with neutral cooking oils, but the dish will taste different.
ADD CRUSHED SPICES AND PUMPKIN
Now add the cumin seeds (Jeera), crushed fenugreek (Methi seeds) and coriander seeds the moment they begin to splutter immediately add the diced pumpkin cubes and stir fry on high heat for 2-3 minute.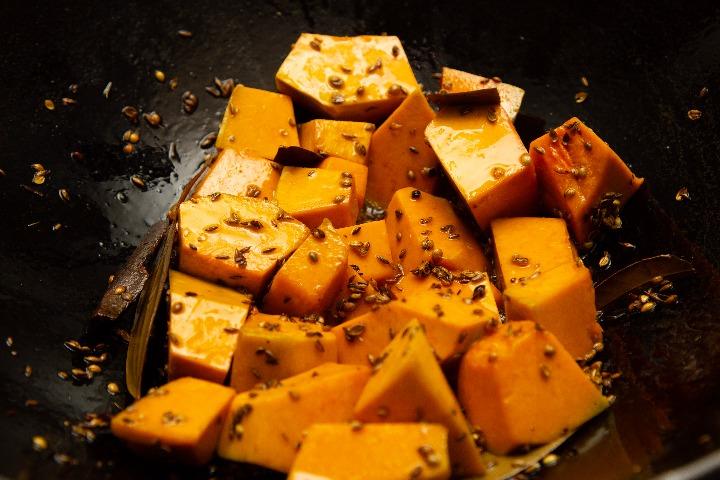 ADD POWDERED SPICES
At this stage when the oil has cooled down a little we add the powdered spices turmeric, kashmiri red chilli powder and salt, which will prevent these spices from burning. Stir to coat the pumpkin cubes and cook for about 5 minutes on medium heat.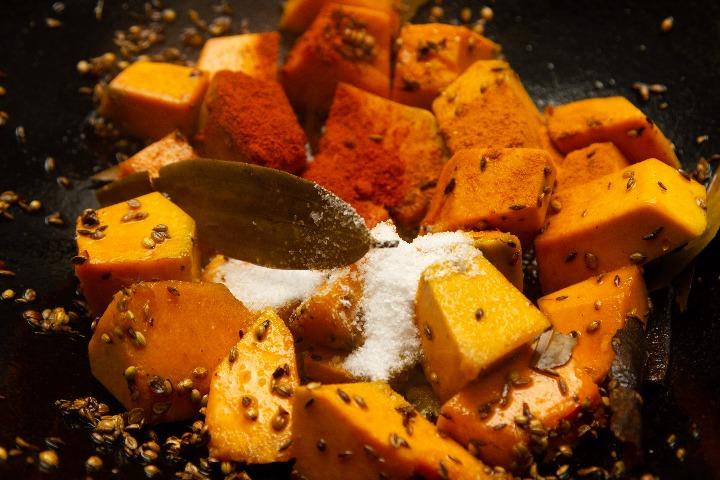 ADD JAGGERY POWDER/SUGAR, COVER AND LET IT COOK
Add the jaggery powder/sugar, stir well to coat the pumpkin. The jaggery starts to caramelize and as a result pumpkin starts to turn brown. Cover with the lid and cook on low heat stirring occasionally till pumpkin is almost tender but it still holds its shape, this can take 5-10 minutes. Do not overcook the pumpkin.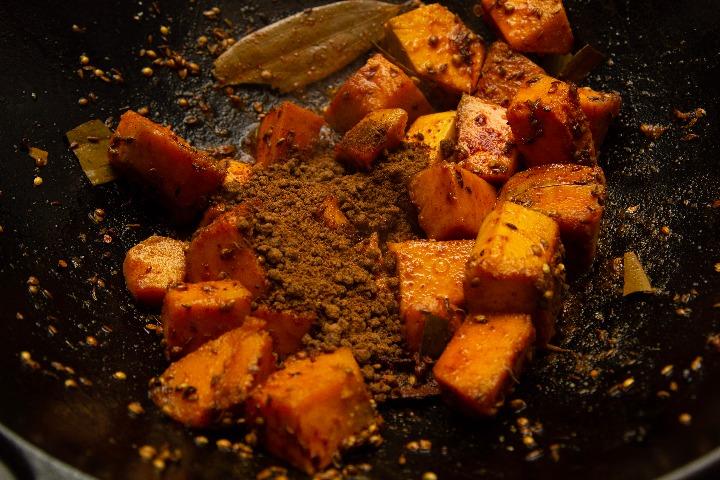 ADD TAMARIND PULP, WATER AND LET IT SIMMER.
Once the pumpkin is tender add the tamarind pulp, stir carefully as the pumpkin will break easily and turn mushy. Let this cook for about a minute. After that add 2 cups of warm water, adjust the salt and let it simmer on low heat with occasional and careful stirring. The oil will start to separate and curry will start to thicken, this can take about 5-10 minutes. Kaddu ka khatta (pumpkin curry) is ready ! Garnish with freshly chopped cilantro (coriander leaves) and serve with hot steamed white rice. This goes well with poori also.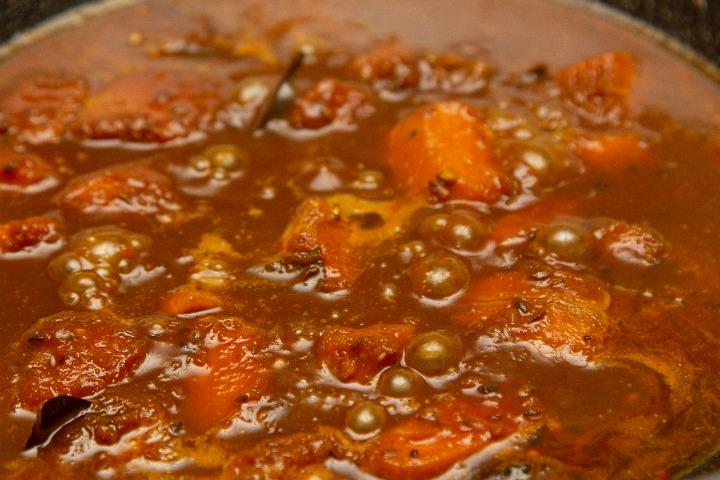 TIP: It is very important to add the tamarind once the pumpkin is almost tender because tamarind slows down the cooking process. The curry will tend to thicken as it sits, you can reheat by adding 1/4 cup of warm water.