OPEN PUFF PASTRY SAMOSAS
Puff pastry samosas are filled with savory potato filling. Inspired by the traditional samosas, these bite size appetizer are not only tasty but convenient, quick and easy to make. These samosas make a great party/potluck appetizer or a snack for the family. You can make them ahead of time and bake them right before you are ready to serve.
When I moved to the United States, one thing I really missed was fresh hot samosas. For quite sometime I made peace with store bought frozen samosas. These samosas are a favorite at parties. Kids love them too and nobody stops at just one! Go make a batch of these yummy little samosas for your next party or just an evening with your family.
How to make puff pastry samosas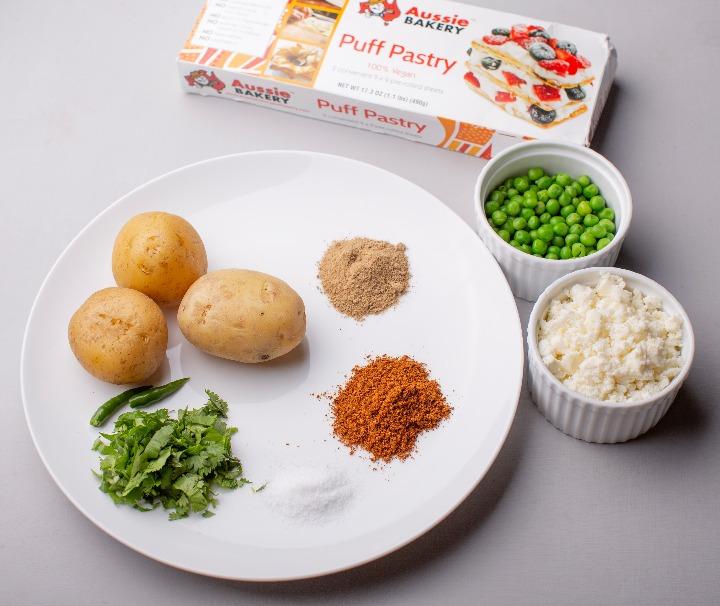 Potato filling
Pressure cook potatoes using instant pot/pressure cooker for 15 minutes on high pressure and natural release the pressure or until they are tender. Once the potatoes are cool to handle, peel the skin and mash them in a bowl. Add chopped cilantro, green peas and green chilies to the mashed potatoes and mix everything together.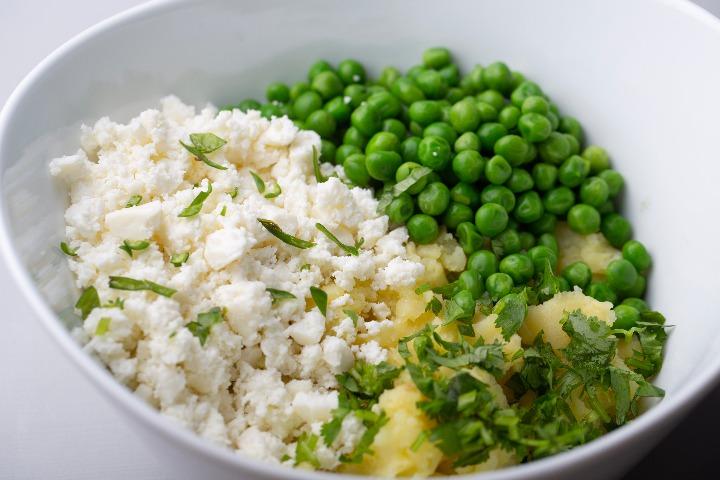 Next add the salt, chaat masala, roasted cumin (jeera) and red chili powder and mix it all together, cover it and keep aside.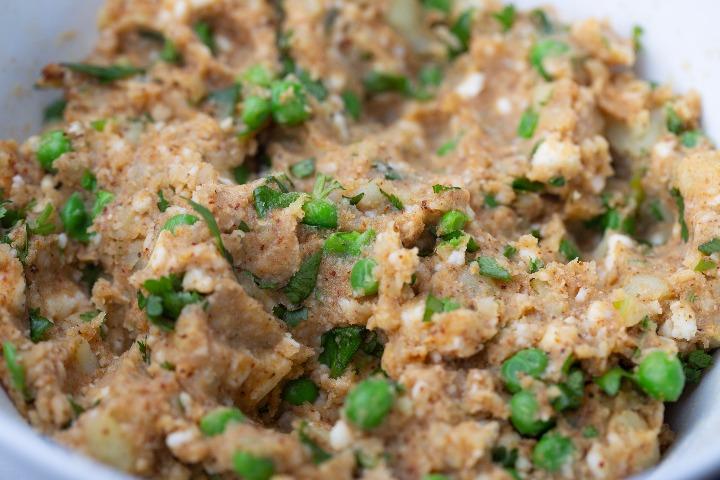 Working with puff pastry sheets
Puff pastry can get tricky to handle if left at room temperature, it becomes sticky and gets difficult to cut, so keep it refrigerated until you are ready to use.
Unfold the puff pastry sheet and cut it to 3 inch by 3 inch squares with the help of a sharp knife. Now place the square of the puff pastry on top of the muffin tin cavity and slowly press down the center into the cavity to form a bowl, repeat this for all the squares and fill these with 1 tbsp (25g) of the prepared potato filing.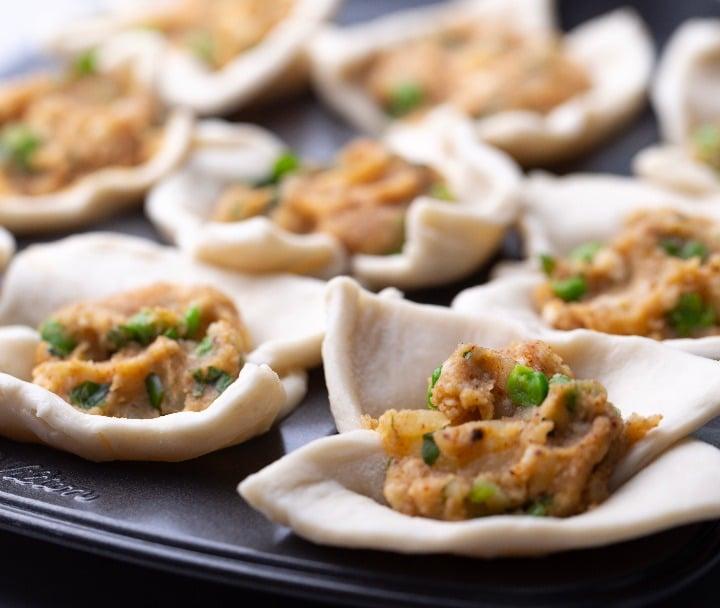 Next pinch together the opposite sides of the puff pastry to seal. There is no need to be perfect here, if you can still see the filing that's perfectly alright.
NOTE: At this stage you can cover them and keep them refrigerated till you are ready to bake. You can make them 5-6 hrs ahead of use.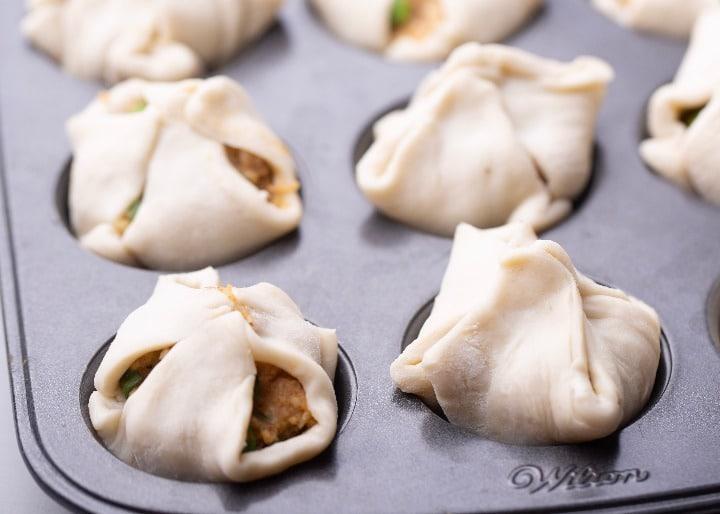 TIP: There is no need to grease the muffin tin, the puff pastry has enough butter so they release easily once ready.
How long to bake these puff pastry samosas
Bake at 400°F (205°C) for about 15-20 minutes, or until golden brown. Remove from the oven and let them sit for 5 minutes. Once these samosas are cool enough to handle, transfer to the platter.
NOTE: As the puff pastry bakes, it will tend to open up and the filing will be visible inside. This is completely normal, remember we are making open samosas.
Enjoy these bite size open samosas hot or at room temperature with mint and tamarind chutney and a cup of hot masala chai.