Tori ki Sabji is a semi-dry North Indian home style curry. Tori/Turai/Ridge gourd/Luffa gourd is cooked in tomato and ginger-based sauce and is flavored with mild spices. There is no use of onions and garlic in this preparation.
What I love about this Tori ki sabji
Tori ki Sabji is my other favorite go-to curry because it is a simple, quick, delicious and flavorful recipe to make at home. This recipe requires very few and common spices found in most Indian households. It comes together in less than 30 minutes, perfect side dish for a weekday meal. This style of preparation is also easy to digest and loaded with health benefits.
I won't say this was my favorite sabji while growing up but this was very often cooked in my home during the summer months along with Dal Tadka and Jhol and was served with rice or phulka. My grandmother would cook this with just the basic spices, without the tomatoes.
Tori ki Sabji, Dal Tadka, and Jhol along with steamed white rice have become one of our favorite weekday combinations. It also tastes delicious with plain parathas or phulkas. 
Where to find Tori/Turai/Ridge Guord
Tori/Turai/Ridge Gourd can be found in the fresh vegetable section of any Indian grocery store. This is a seasonal vegetable that is mostly available in summers. This skin is hard, has ridges, and should be peeled off before cooking. While buying tori make sure it is fresh, firm, and free of any soft spots. This vegetable is loaded with health benefits and has a very high moisture content.
How to make Tori ki sabji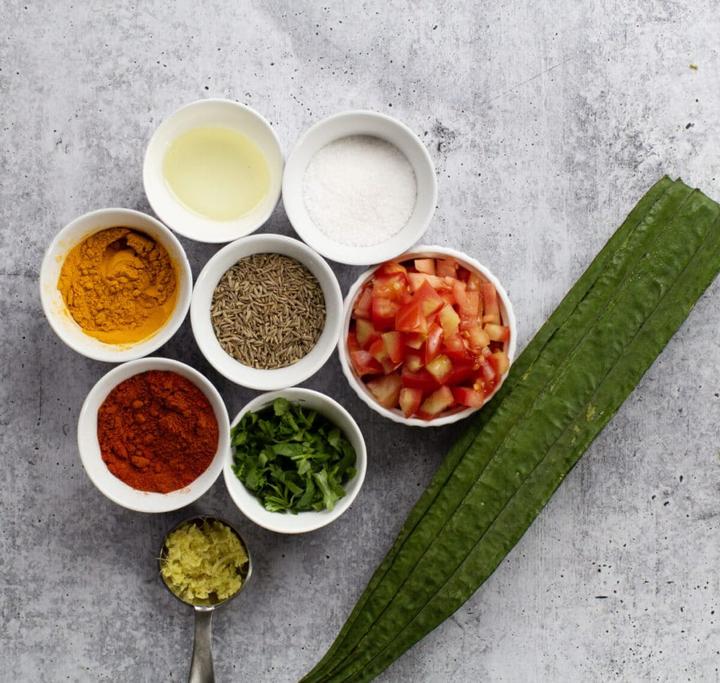 Prepare Tori/Turai/Ridge Gourd
I prefer to use the peeler to peel the skin of the ridge gourd. Cut half lengthwise and then dice it into small pieces and set aside.
Roast the cumin seeds
In a wok on medium, heat the oil. Add the cumin seeds, once they splutter, they will start to change color immediately.
Tomato masala
Lower the heat and add the chopped tomatoes. Stir to combine. Next add the grated ginger, turmeric powder, red chili powder, and salt. Combine everything well together and let the tomatoes cook thoroughly with stirring occasionally. The tomatoes should not fully disintegrate and should have some body. This will take about 5 minutes.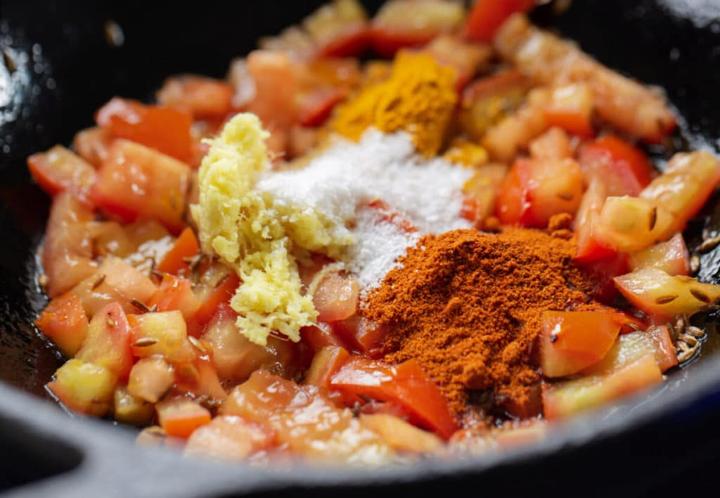 TIP: Adding ginger after tomatoes prevents it from sticking to the pan.
Add the Tori/Turai/ Ridge Gourd
Add the diced tori and stir until tori and tomato masala are well combined. Keep stirring at regular intervals and scraping the bottom of the wok. Let this cook for about 5 minutes.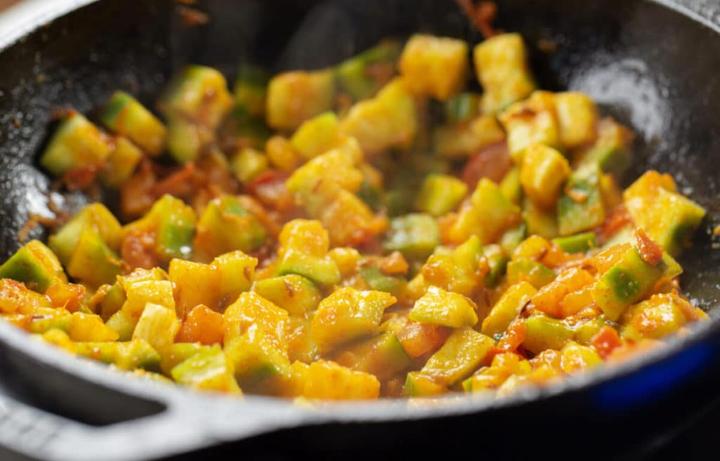 Finishing Tori ki Sabji
Cover with a lid and cook on medium heat until all the moisture has evaporated and is tender, this can take about 10 mins. Keep stirring at regular intervals and scraping the bottom of the wok. Remove the lid taste and adjust for salt. Tori ki sabji is ready!
NOTE: Cooking time varies and depends on the source and freshness of the tori and many other factors.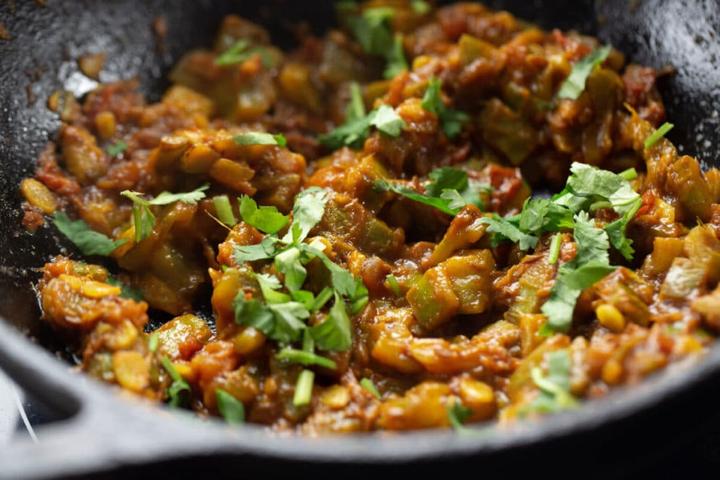 TIP: Tori and tomatoes release water while cooking, so there is no need to add extra water but if the sabji is sticking to the pan, you can add 1/4 cup of water.
Transfer to a serving bowl, garnish with chopped cilantro/coriander leaves. Serve hot with Jeera rice, paratha or phulkas.