Dal tadka is cooked with varieties of dals (like masoor, yellow moong, toor, channa etc.) and spices. Also popularly known as curry lentil soup. Dal tadka translates to cooked lentils with tempering. Most dal recipes are simple to make, however the preparation varies from region to region in India and is often eaten with rice or roti.
I use split masoor dal and yellow moong dal for this preparation. There are days when I would trade any kind of meal for a hot bowl of dal tadka and rice. We make this Dal tadka as a side dish for our weekday meals because it is so simple, delicious, healthy and it comes together so easily and quickly, in under 30 minutes.
What I love about this dal tadka
My mother would often cook simple masoor dal and dry tomato sabzi with rice. I started combining the yellow moong dal and the tomatoes to my mother's style of dal (my husband's suggestion). Also, a good friend from Orissa introduced us to panch phoran and how it is used in their cuisine. I combined all of these and ended up with the most delicious, simple and quick dal tadka recipe.
This dal tadka recipe is a reminder of what my mother often told me, if you open up and appreciate people's culture and food, they will open up to you, your food and culture. This has stayed with me and I have made some lasting relationships with my dear ones.
We enjoy dal tadka with jeera rice, fish fry and kaddu ka khatta (a combination of different regional food). It can be combined with many other dishes, curries or enjoyed as a bowl of soup.
I hope you enjoy making this dal tadka as much as I do.
Spices I use in making this dal tadka
Panch phoran: A five spice blend used for tempering. It consists of equal amount of cumin seeds, fennel seeds, black mustard seeds, fenugreek seeds and nigella seeds (also known a calonji, onion seeds or black jeera). This spice blend is always used as whole and not powdered.
Kashmiri whole red chili dry & powder: I personally like to use the Kashmiri red chili powder and whole dry chilies in most of my recipes because they are less spicy and give a beautiful color to the dish. You can substitute these with any other variety you prefer. The spice and aroma will change with your selection of chilies.
How to make dal tadka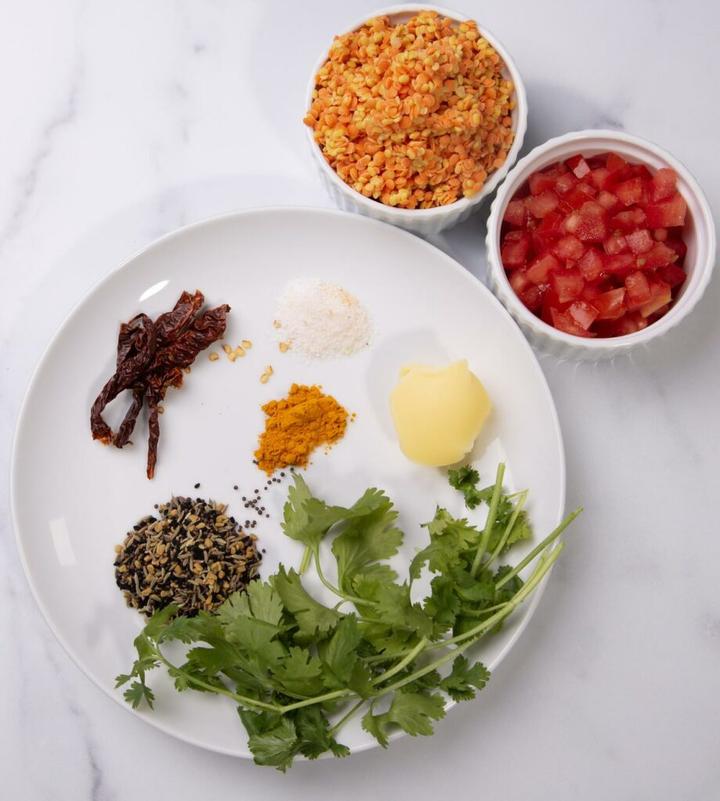 Wash the dal
Mix masoor and yellow moong dal in a bowl, wash the dal throughly with water, I prefer filling the bowl with water and gently massaging the dal with my hands. The water turns cloudy. Drain the water and repeat this 2-3 times or till the water runs clear. Finally drain the water and keep the dal aside.
TIP: You can use the drained water to water your plants. They love the starches that come out during the rinsing.
How to cook dal
I prefer the texture of this dal when cooked in a wok (kadai). Masoor and yellow moong cook very fast and they need not be soaked like some other lentils. Cooking in a pressure cooker makes it mushy.
In a wok on medium heat, add 4 cups of water. Let it come to a boil and then add rinsed masoor and yellow moong dal, 1 tsp of salt and turmeric powder each. Combine everything well together. Cover and let it boil.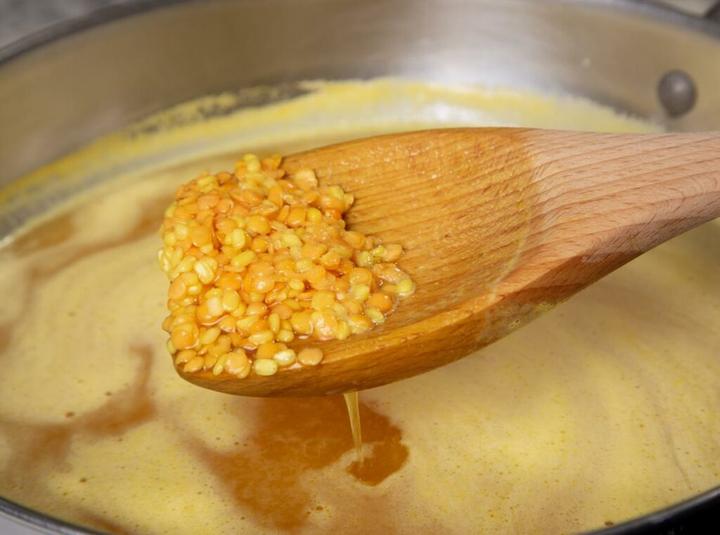 Uncooked dal
Once it starts boiling, slightly open the cover to prevent it from boiling over and turn the flame on medium-high. Try and keep the dal to a gentle boil. Do not let it go to a rolling boil. Cook dal until it is tender but you still see the grains. This will take around 10 minutes. Do not over-cook the dal.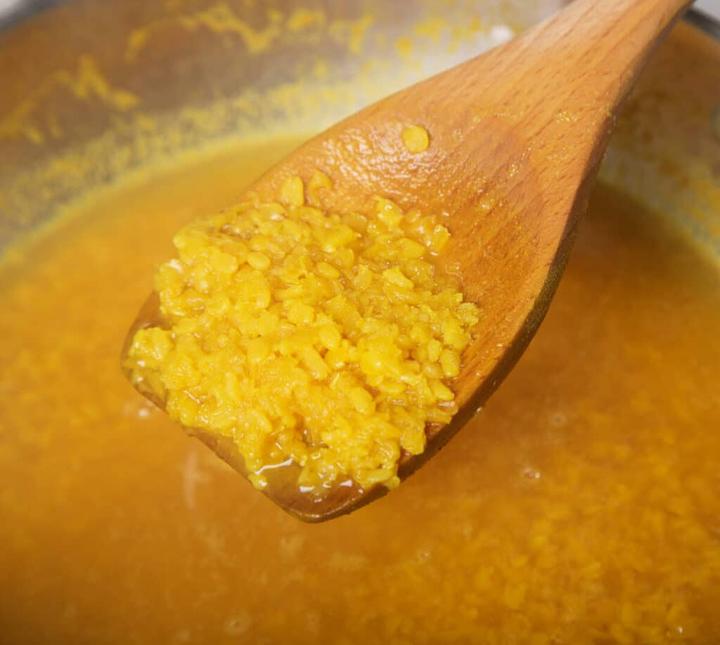 Cooked Dal. The grains are soft and can be crushed between fingers with no resistance
Cooking tomatoes
On low, heat desi ghee and add red dry chili in a wok. Once the oil is hot and the red chili has changed color to deep red, add panch phoran and as soon spices crackle, add chopped tomatoes and salt. Combine everything well together and let the tomatoes cook thoroughly with stirring occasionally. The tomatoes should not fully disintegrate and should have some body. This will take around 5 minutes.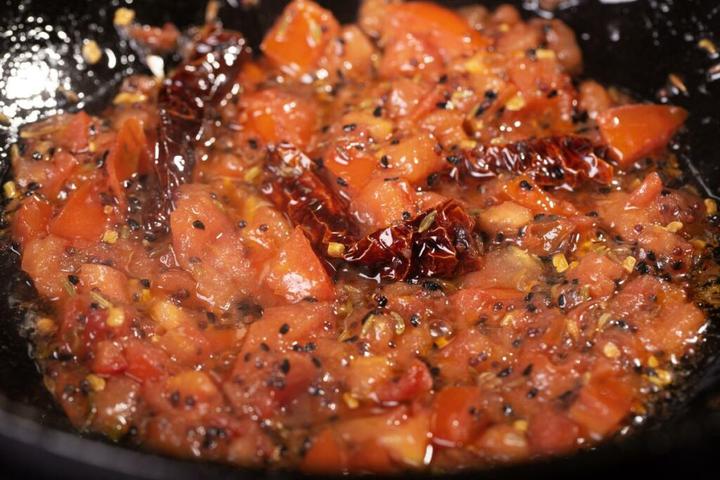 TIP: I cook the dal and tomatoes simultaneously on two different burners. This helps in speeding up the process. By the time dal is cooked, tomatoes are also ready.
Combine the cooked dal and tomatoes
Now add the cooked dal to the tomatoes and stir to combine everything together. Taste the dal and adjust for salt. Let it simmer for another 3-4 minutes. Turn off the heat and keep aside.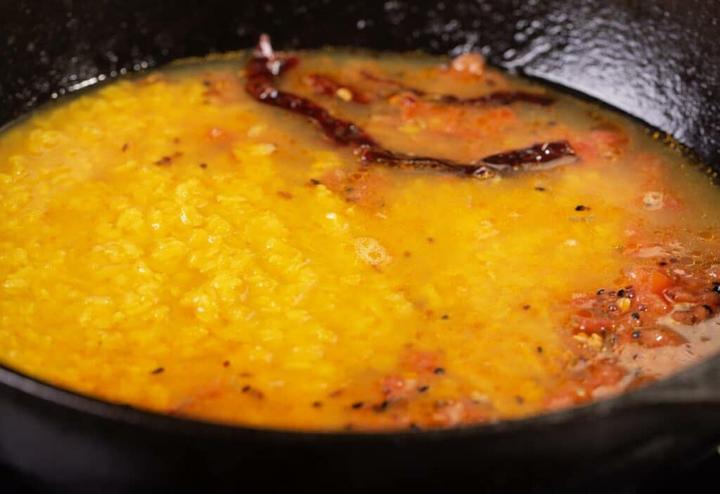 Adding Tadka/Tempering
Tadka/Tempering is a cooking technique in which whole spices and other ingredients such as dried chillies are roasted briefly in ghee or oil to release oils and thus enhance their flavors before being poured into a dish.
On low flame, heat ghee and whole dry red chili. Once the dry red chilli changes color to deep red, turn off the heat and add red chilli powder. Stir and immediately pour the tadka over the dal.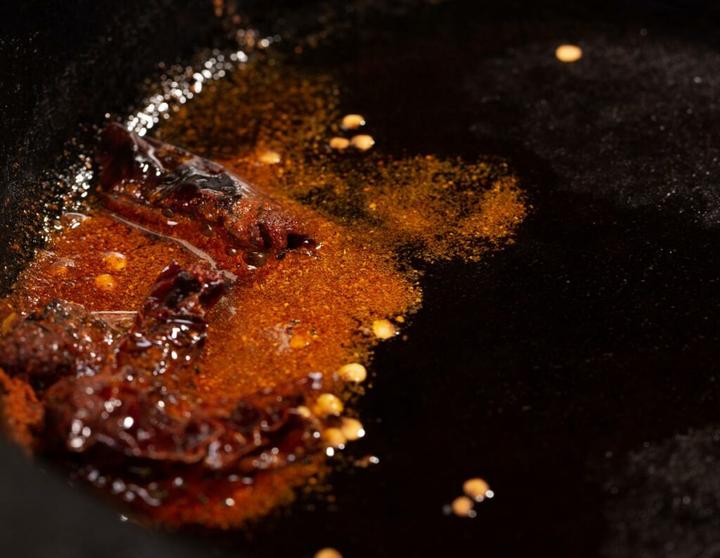 TIP: If you add chili powder to a very hot oil, it will burn the chilies. If that happens start again.
Garnish with chopped cilantro/coriander leaves. Serve this hot dal tadka with boiled jeera rice or roti.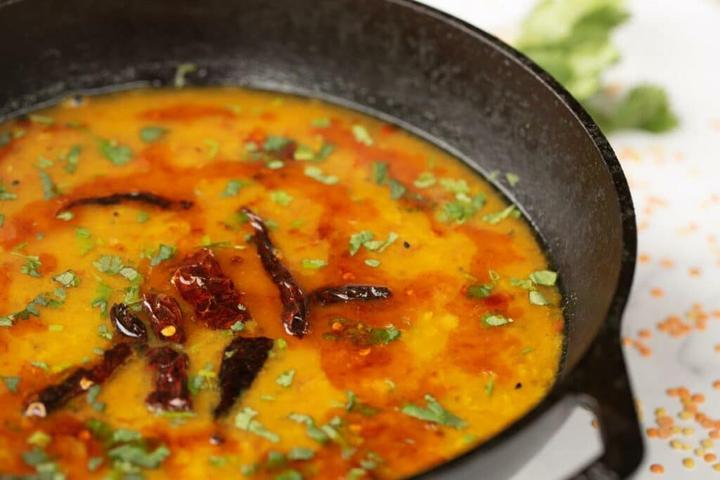 TIP: If you are making this dal ahead of time, add the final tadka right before serving.