This Fish fry recipe is inspired by a dear friend's kitchen who is from Orissa. I was amazed by the simplicity and the flavors of this dish and how quickly this comes together. This recipe uses a few basic ingredients and is crispy on the outside and juicy on the inside.
Growing up in the mountains fish was never a part of our meal. I remember eating freshwater fish fritters only a few times back in my home town. I started eating fish after moving to Bangalore and I loved fish preparations especially in the Andhra and Kerala restaurants. After moving to the United States, I have tasted varieties of fish and fish has now become a regular part of our meals.
We make Fish fry very often as a side along with Dal Tadka and hot steamed white rice for our weekday meals because it is so simple, delicious, healthy and it comes together quickly in under 30 minutes.
How to make fish fry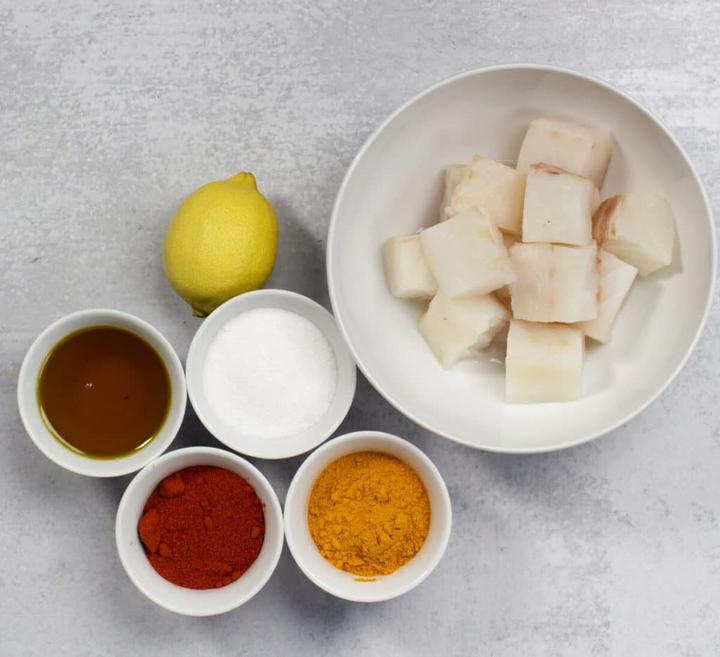 What kind of fish to use
I have used cod for this recipe. This recipe also works fantastic with halibut, rockfish, catfish, sea bass, and tilapia. Try using a boneless mild white or light color fish.
Clean and wash the fish thoroughly under running water. Drain any excess moisture and pat it dry using a paper towel. Cut it into small cubes with even thickness as much as possible, this will help in the fish cooking evenly.
Spices
Kashmiri red chili powder: I use the Kashmiri red chili powder in most of my recipes because they are less spicy and gives a beautiful color to the dish. You can substitute with any other variety you prefer. The spice and aroma will change with your selection of chilies.
Marinate the fish for making fish fry
In a bowl, add mustard oil, red chili powder, turmeric, and salt. Combine everything well together. Next, add the fish pieces. I prefer using my hands for rubbing the marinade into the fish pieces. Make sure all the fish pieces are coated well with the marinade.
Cover and let the fish marinate for at least 10 mins.
NOTE: Wash your hands and surfaces after handling the raw meat to avoid cross-contamination.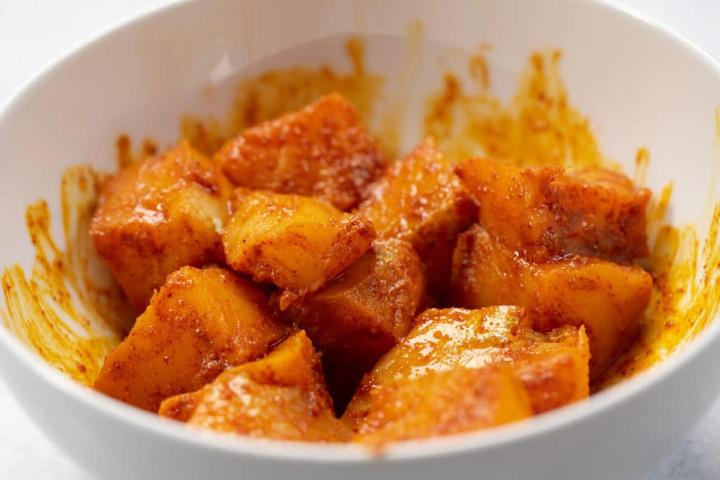 TIP: Add red chili powder to the oil first, this helps in releasing the color of the red chili powder.
Shallow fry
In a heavy bottom pan over medium, heat the mustard oil. I use a well-seasoned cast-iron pan. Add the marinated fish, making sure not to overcrowd the pan. Let it cook for 3-4 minutes and then carefully flip and cook the other side for 3-4 minutes or until cooked through. It is important to let the fish cook on each side without flipping the fish in between, this will help the fish get crispy edges and will cook evenly. If frying in batches, bring up the temperature of the oil before adding the next batch of the fish.
NOTE: Mustard oil has a sharp taste. For mellow and milder flavors, it is heated till the smoking point. You can substitute mustard oil with neutral cooking oils, but the dish will taste different. Do not use butter or olive oil because they will burn at high temperatures.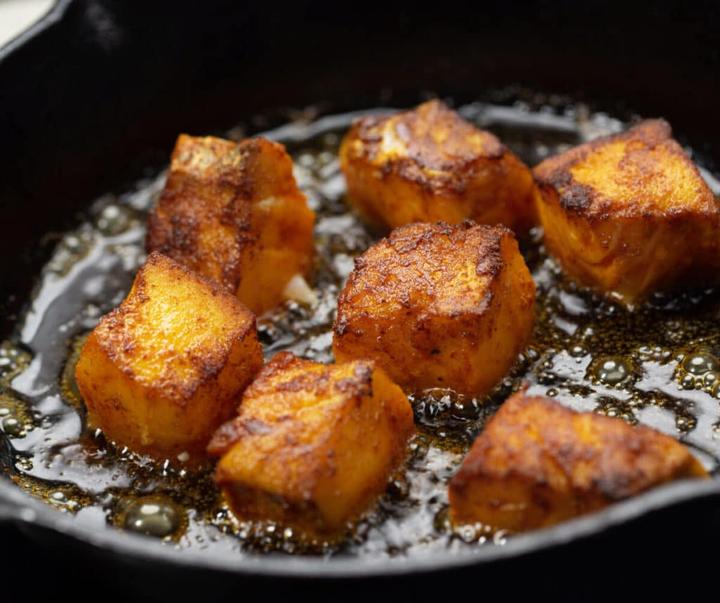 TIP: Overcooking changes the texture of the fish, it will become dry, tough, and chewy. The cooking time will also vary with the variety of fish.
Transfer the fish on the paper towel to drain the extra oil.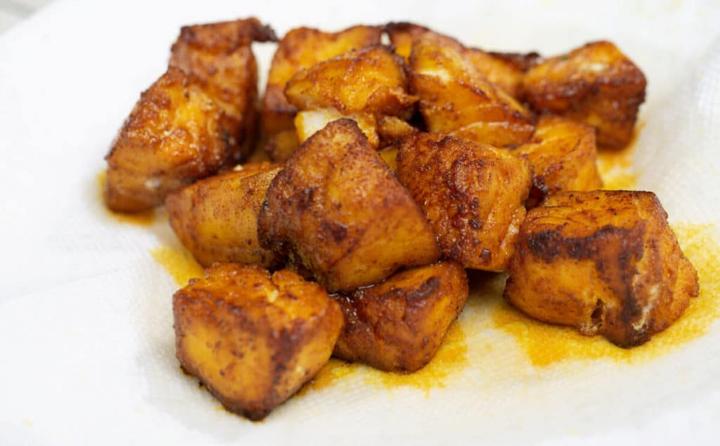 Fish fry is ready! Squeeze some fresh lemon juice and serve hot. This makes a perfect snack and a side along with Dal Tadka and steamed white rice.