Madra is a curry in Himachali cuisine, made with yogurt, legumes (Chickpeas, kidney beans, black eyed peas) and variety of spices that gives this dish a unique aroma and flavor. It is served as a side dish with hot white steamed rice in Mandayali Dham, a community midday (six to seven course) meal and is usually followed by Kaddu ka khatta. There is no use of onions, garlic and tomatoes in the preparation. Madra is slow cooked on low heat to ensure the yogurt does not curdle and break down. The madra recipe varies slightly from region to region in Himachal Pradesh, India.
Rajma Madra is a type of madra made with boiled rajma (kidney beans). This preparation can be enjoyed as a side dish or as a main dish. The process of making rajma madra is very simple.
We make rajma madra very often for our weekday meals because it comes together so quickly, the process is very simple and hardly any preparation is involved. This style of rajma preparation is also easy to digest. I also cook Rajma madra as a side dish when I make more elaborate Himachali meal. The aroma and warm flavors of this dish takes me back to my hometown in Himachal, India.
Hope you all will enjoy rajma madra as much as I do and share this recipe with your family and friends.
What kind of rajma to use
You can use either the red speckled (chitra rajma also known as pinto beans) or the red kidney beans. Small size beans works the best, they cook easily and have more flavor.
How to cook rajma
Soak 1 cup of rajma in 3 cups of water for 8 hours. Pressure cook the soaked rajma with 2 tsp of salt for 30 minutes using instant pot/pressure cooker or until rajma is tender but still holds the shape. Strain the rajma and preserve 1/2 cup of the liquid.
NOTE: Cooking times vary and depend on the source of the bean, hardness of the cooking water and many other factors.
Grind the spices
Coarsely grind the black pepper, fenugreek seeds and fennel seeds.
How to make rajma madra
Bloom the whole spices
In a wok (Kadai) on low heat add ghee. Once the ghee has melted add the bay leaves, cinnamon stick, black and green cardamom. Sauté till bay leaves changes color and the spices become fragrant. This will take about 2 minutes.
NOTE: It is important to start with adding the whole spices first as they release their aroma in the oil and provides a depth in flavors.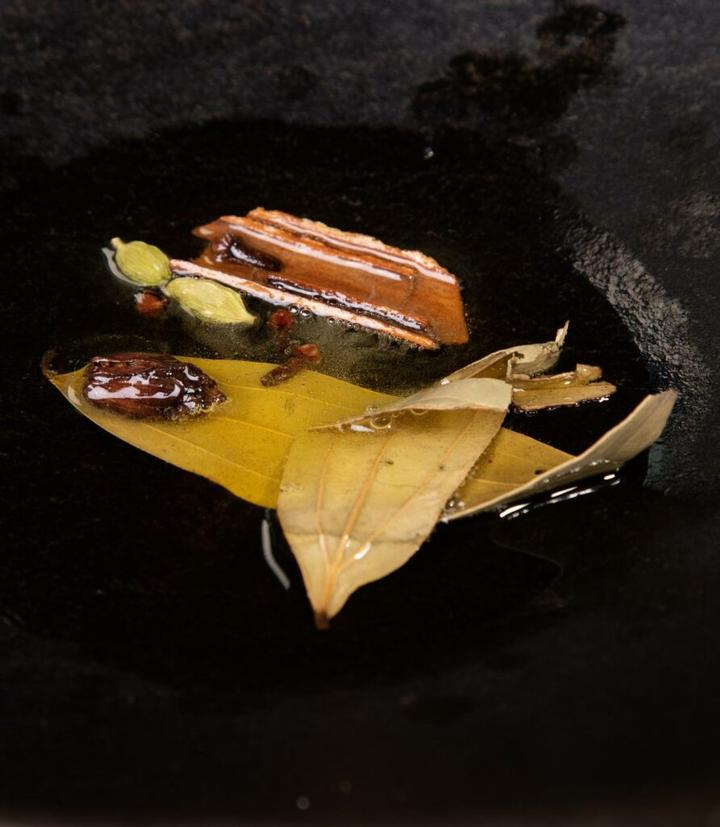 Add the ground spices
Next add the ground fennel seeds (saunf), fenugreek seeds (methi seeds) and black pepper (we made this earlier) and cook them for 1 minute on low heat until they turn into a deeper shade.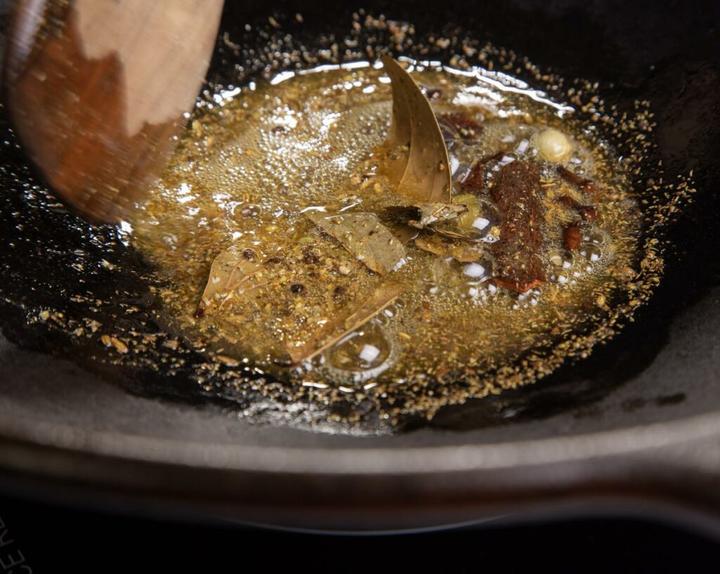 Add yogurt and powdered spices
Turn the heat off at this point and slowly add the yogurt to the wok and immediately start stirring and combining the yogurt and the spices. After a minute of stirring, turn the heat back on low and add salt, turmeric powder, roasted cumin and red chili powder.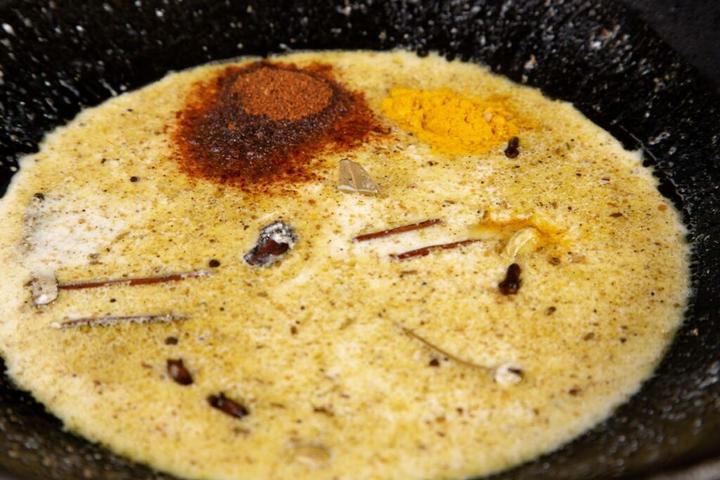 Keep stirring the yogurt continuously on low heat, this is the most important step in the preparation of this dish. The oil will slowly start floating on the top and the yogurt will start to bubble gently. This can take about 10 minutes.
NOTE: Yogurt base curry tastes best when made with full fat yogurt . It is very important to cook yogurt on a low temperature. If you heat yogurt too quickly, it will separate.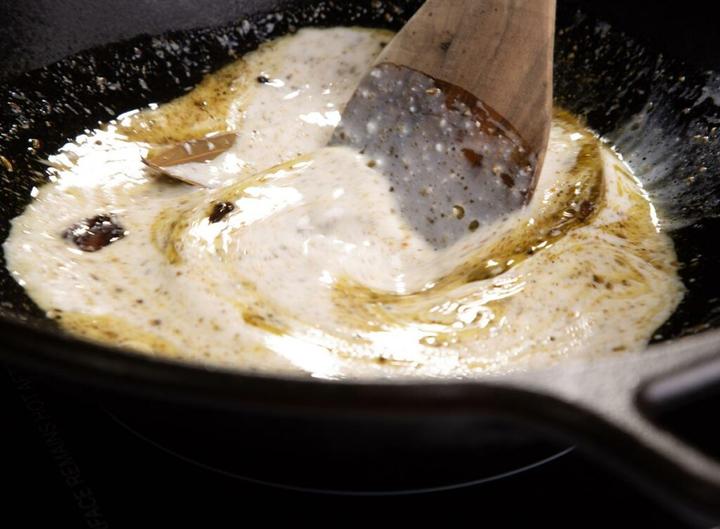 Time to add Rajma
As soon as the yogurt starts to bubble, add the cooked rajma. Mix it all together and let it cook on low heat for 5 minutes.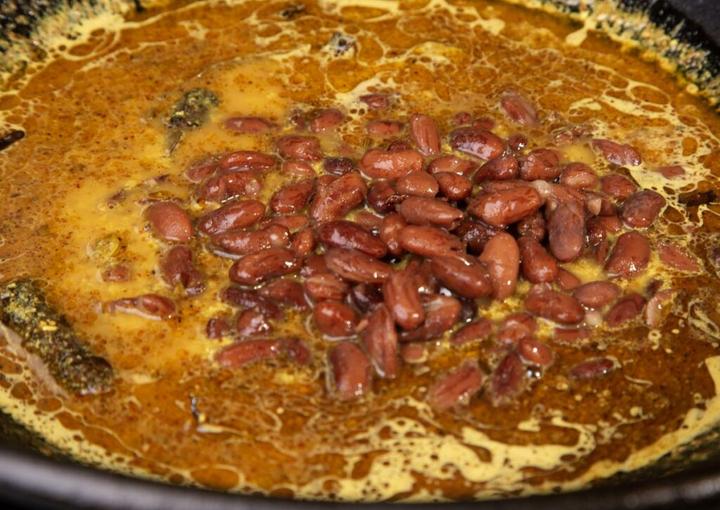 Finish simmering
Finally add 1/2 cup of preserved water from boiled rajma. Stir and let this curry simmer (about 5 minutes) as a result the gravy will thicken. Rajma madra is ready! Garnish with freshly chopped cilantro (coriander) leaves and enjoy with hot steamed white rice.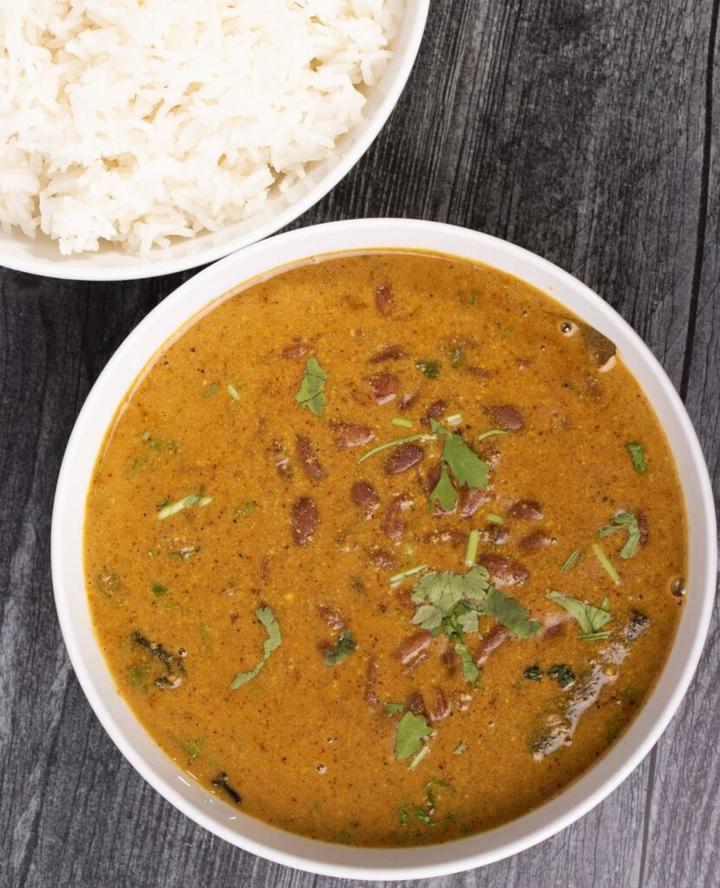 TIP: This curry will thicken as it cools down. While reheating you can add 1/4 cup of warm water and simmer for 2-3 minutes.