Kele ka meetha is a sweet preparation in Himachali Cuisine. Ripe bananas are sauteed in desi ghee and jaggery powder along with spices and are enjoyed as a side dish.
A Himachali meal is served in a sequence, Meetha (sweet) is served first, followed by madra (Rajma madra, Chana Paneer madra) or dum (Rongi gobhi ka dum), next is kaddu ka khatta or Aloo Shimla Mirch ka Khatta, after this comes Maah ki dal (black urad) or Dal and Jhol.
HIMACHALI (MANDAYALI) MEAL
Kele ka Meetha, Rongi Gobhi ka Dum, Aloo Shimla Mirch ka Khatta, Dal and Jhol with steamed White Rice.
There are different varieties of meetha prepared in Himachali Dham, like Boondi ka meetha, Gulab jamun ka meetha. Kele ka meetha is most common in everyday household cooking in my hometown.
What I love about Kele ka Meetha
This recipe is not overly sweet and is simple, quick, delicious to make at home, and comes together in less than 10 minutes. The warm and unique flavors of this dish are enjoyed by everyone. The bananas are naturally sweet and do not require a lot of added sugar that makes this a perfect dish to control those sweet cravings and feel less guilty after enjoying it.
We enjoy Kele ka meetha with steamed white rice along with other Himachali dishes or as a dessert to satisfy those sweet cravings after a meal. I hope you all will enjoy making this dish for your family and share it with your friends.
What kind of bananas to use
I suggest using yellow firm bananas. You do not want them to be raw and green in color or overly ripe and brown. Overly ripe bananas will not hold its shape during the cooking process and will become mushy.
How to make kele ka meetha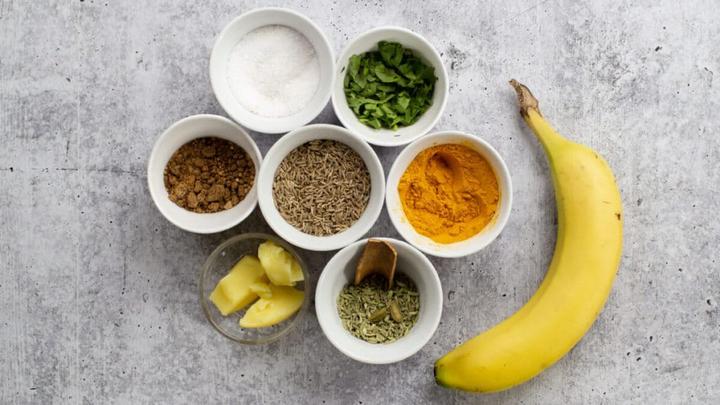 Slice a ripe banana diagonally into slices about half an inch thick.
Bloom the whole spices
In a wok (Kadai) or a pan on low heat add ghee. Once the ghee has melted add the cinnamon stick and green cardamom. Sauté till spices become fragrant. This will take about 2 minutes. Next, add the cumin and fennel seeds, and as soon as they begin to splutter and change color add the turmeric powder.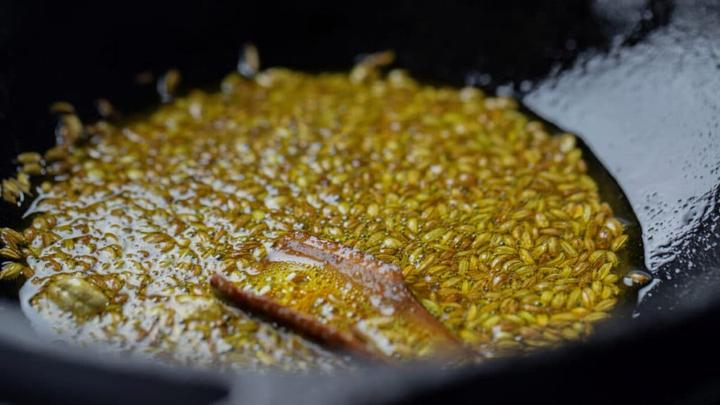 NOTE: It is important to start with adding the whole spices first as they release their aroma in the oil and provides depth in flavors.
Add the sliced bananas
Add the sliced bananas and carefully combine them with the spices. Let this cook for a few seconds.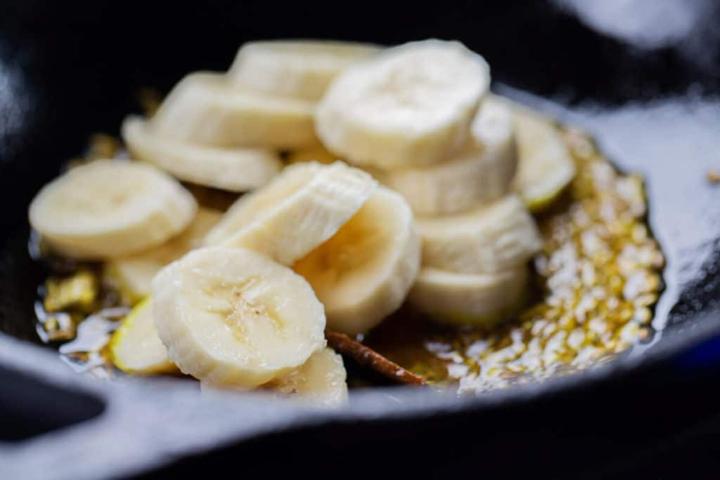 TIP: Do not overcrowd the pan, otherwise the bananas will not caramelize evenly.
Next, add jaggery powder and finish Kele ka Meetha
Lastly, add jaggery powder and carefully combine it with the bananas. The Bananas will start to caramelize and as a result, turn golden brown and crisp on the edges this will take about 2-3 minutes. You are looking for a soft center and the crisp edges, keep flipping the bananas in between to prevent them from burning. Do not overcook the bananas otherwise, they will become mushy.
NOTE: You can increase the amount of jaggery powder if you enjoy more sweetness.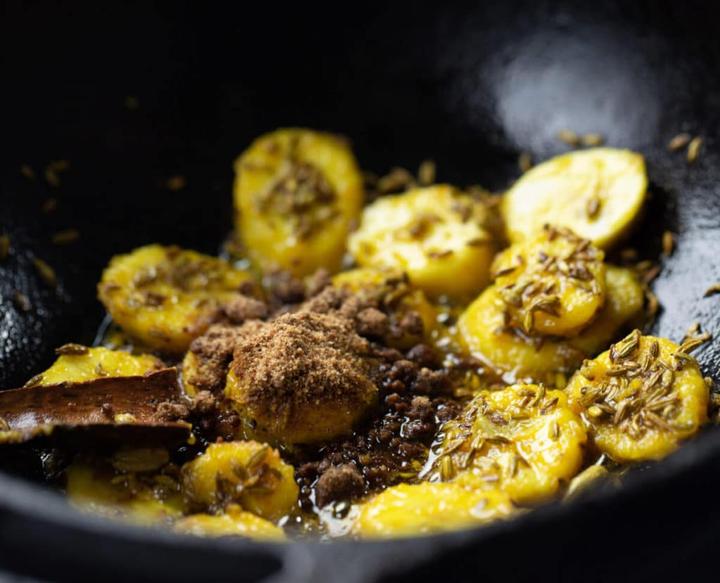 TIP: The ghee and jaggery powder turns into caramel sauce with infused banana flavor. When serving, pour the remaining sauce on the caramelized bananas.
Kele ka meetha is ready! Garnish with some freshly chopped cilantro leaves and serve hot with steamed white rice or Enjoy as a dessert!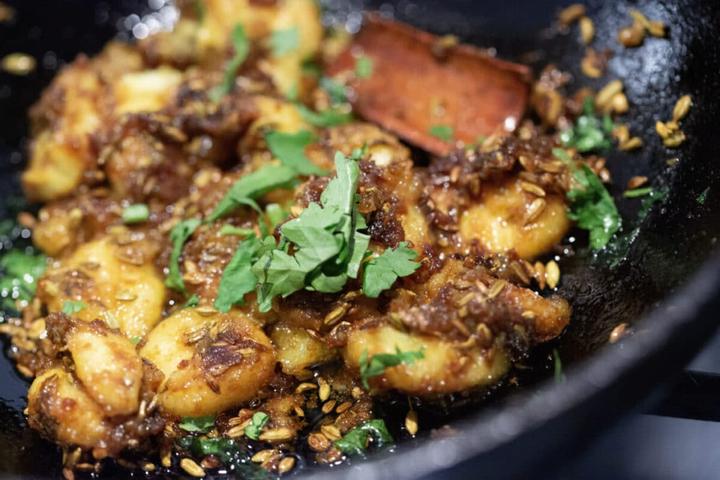 TIP: This dish tastes best when enjoyed hot, right after the cooking, and it does not do well with reheating.